Slot Machines: Myths vs. Facts

Myths have suffered a serious blow in the modern world. From larger-than-life deities and demigods bending the forces of nature to their will, these days they are reduced to 'silly stuff people believe, without any proof'. Like the headline says, Myths vs. Facts is the quintessential way to communicate information and in a way, 'myth' is now defined as the opposite of 'fact'.
Every industry has its own myths it tries to dispel. Because myths, in their modern incarnation, are causing anguish to those who insist believing in them. When you believe in stuff that isn't real, isn't true, you are hurting your experience of whatever it is you're doing. To put it simply, myths aren't true.
Strip The Slot Of Myths And Let The Facts Shine Through
So we've decided to take the slot machine, give it a hell of a spin until all the myths will fall off and the facts will be revealed. The outcome is before you, an infographic that dispels the most common myths about the slot and offer the hard-cold facts instead.
There you have it! Now that we have distinguished the myths and facts about slot machines, you can make more informed decisions on whether you will like to play. Your next assignment, if you choose to accept it, is to help us spread the word, help the world rid itself of false assumptions and misconceptions. Let the slot reveal itself in all its simplicity of mechanism and glory of fair chance.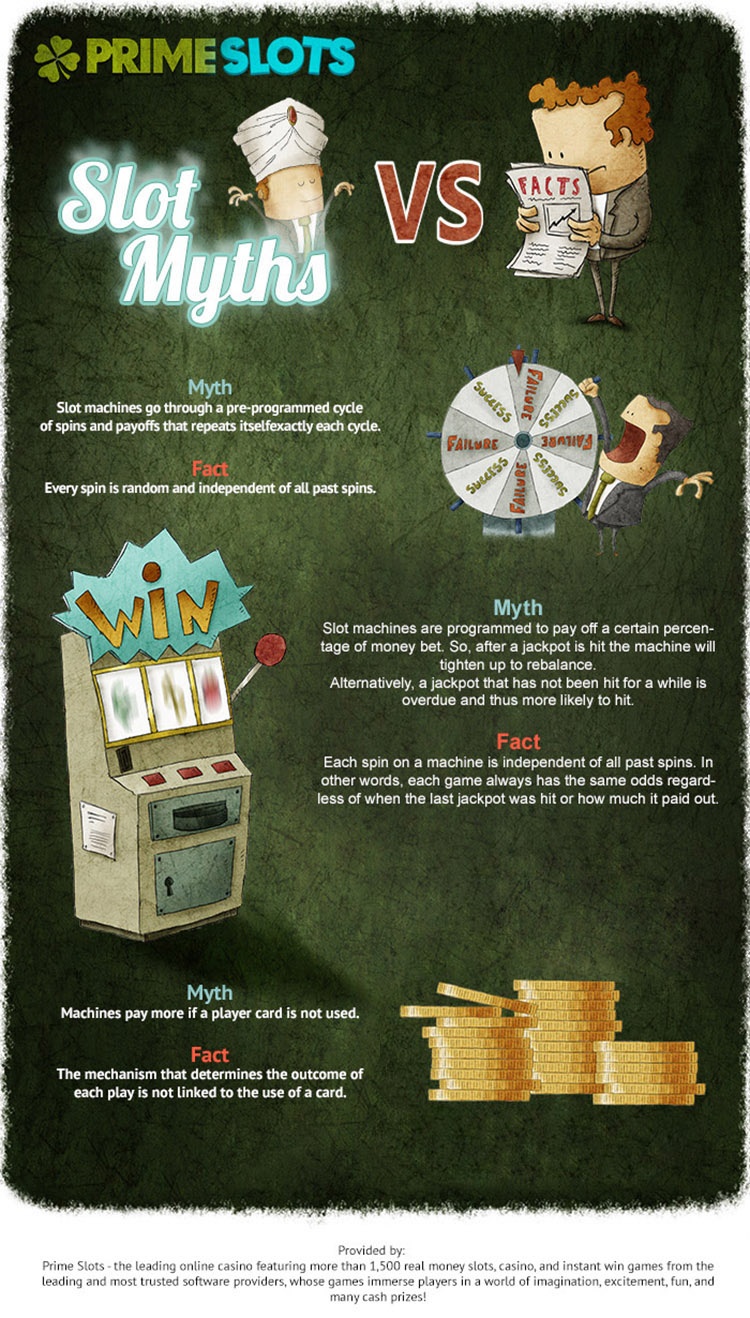 So What We've Learned About The Slot
To sum up the infographic above, every spin of the slot is completely and totally independent, in its chances and outcome, from any and all other spins. Every time the reels spin you are getting a fair and clean chance to win, or not.
And that's good news. No more calculations of when and how much was won in previous spins, by you or others. All jackpot detectives can take a break and simply enjoy slots and games, since it is now settled, once and for all, that there is absolutely no way to predict the big ka-ching. Jackpots are like rainbows – you never know when and where they will shine through the rain and sun but when they do, you and everyone present are mesmerised.
Separating the Myth from the Facts
It is the most desired skill of the 21st century – the ability to separate. Separate what from what? Basically, everything from everything.
When you spin the reels of slots, make sure to just have fun with it. Be in the moment, be entertained. Don't let the Myth of the Slot interfere with your enjoyment of the game.
When you're not spinning and having fun, delve into the world of the imaginary, where demigods and other mythical creatures roam the earth and engage in fantastical battles and greater-than-life escapades.
The myth tales are the stuff of legends, but they should remain in that realm of fiction and not be mixed with slots, a very earthly machine.