Travel back in time and step back in the past with this slot called Arcade. As you play the game, you'll get to enjoy the classic vibes of slot machines. Equipped with features that will keep you on edge, topping it up with the slot's fun and cool music that will lure you into jiving while playing. So if you enjoy old-school slots then, Arcade is perfect for you! 
Arcade Slot Technical Features
Arcade slot is played on a 3 reel game grid with a classic, retro theme. This game includes only 1 active payline in the middle of the grid. It features a fruity collection of symbols including the following: oranges, pineapples, plums, grapes, pears, watermelons, grapes, apples, raspberries, cherries, and a bag of coins. Arcade also gives a Return to Player rate of 96.62%, with a maximum win of 409x you bet.
Arcade Bonus Features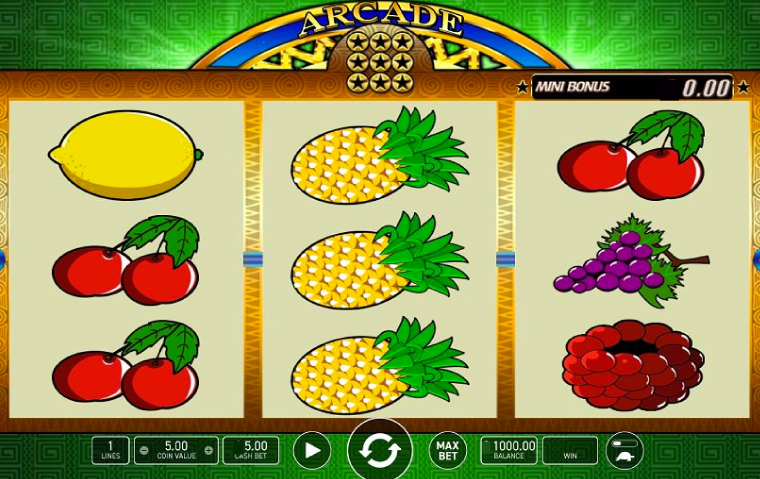 Although Arcade is an old-fashioned slot game it still presents features that are new yet classical and easy to understand.  
MINI BONUS
Some symbols possess stars that are vital for the mini bonus. Each space in the reels has a corresponding symbol with a star on it, and is reflected on the top middle part of the screen for a total of nine spaces in the matrix. If all the stars in the symbols are collected and have landed on all your accumulated spins, then all there's left is to land a winning combination in the active payline in order for the bonus to be claimed. 
REELS BLOCKING
In this feature, either the game or yourselves have the ability to lock a specific reel. If the game sees that a possible bigger win is possible by locking a specific reel, then it will automatically lock it. Don't worry, because you can always override and unlock what the game automatically locks. Reels blocking is an additional option for those who are strategic in playing slots. Mixing and matching symbols will be much thrilling because a whole new opportunity to control the reels has been given through this feature. 
GAMBLE MINI-GAME
The fun doesn't stop with the mini games and reels blocking, because with the Gamble mini-game feature, you'll get a chance to double all of your wins. Gamble Game is a simple guessing game, just predict the next card out of the deck then, it is already a win.
How To Play Arcade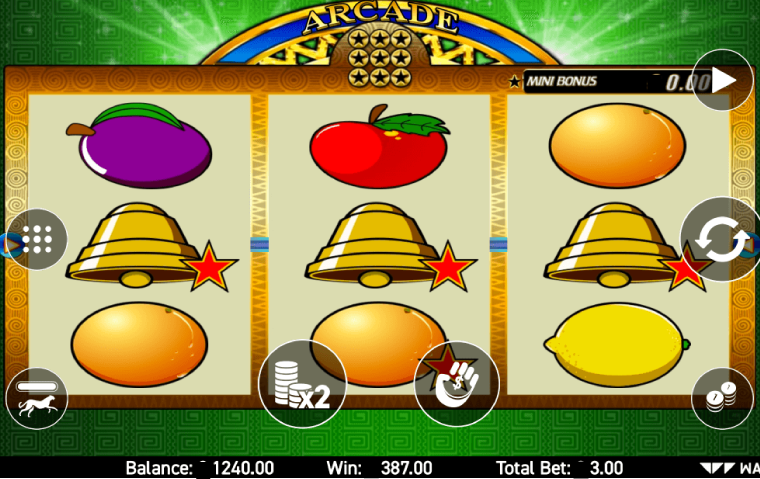 With Arcade, you won't really have to try so hard to win. This slot is a very straight forward game to play. You just need to set your bet, then an option for an auto play is available. Spin and land matching symbols in a minimum number of two similar symbols instead of three in a row in order to hit a winning round.
Arcade Review Summary
So, set foot and travel back in time and let loose in this iconic classic slot! Just set your gaming budget and register to Arcade on Prime Slots, playable on all mobile devices (Computer, Laptop, Tablet, Mobile, Windows, Apple, Android, HTML5, iOs). Just keep in mind and make sure that you don't play any more than your spending limit and always remember to take a breather every once in a while.