You'll notice the stunning backdrop as soon as you step into Divine Ways. A fantastical environment that appears to have been constructed by celestial beings themselves is juxtaposed against the well-known Red Tiger Gaming silhouette horizon! There is a genuine sense of calm and seclusion, with an azure blue sky puffed with white clouds, sitting gently atop jagged mountain peaks. The design of the reels adds to the mystical atmosphere that is already present in the area. The board's delicate gold border and assortment of oriental symbols add to its delicate quality. Serpents, golden dragons, and lucky coins are just a few of the eye-catching symbols that you'll be spinning for cash prizes.
Some people may probably find it relieved that Divine Ways doesn't have continuous music playing, but every time the reels spin, there's a genuine blast of oriental music in the mandolin style that delightfully breaks up the silence.
Four animals from the Chinese zodiac—the Rooster, Snake, Tiger, and Dragon—are featured in the game. The zodiac suggests that Roosters are enterprising, diligent, and gifted, while Snakes are mysterious and perceptive, Tigers are courageous, charming, and competitive, and Dragons are intelligent yet hot-headed most likely due to all the fire breathing. 
Divine Ways Slot Technical Features
Twenty pay lines and five reels with a 5x3 configuration are used in Divine Ways. This video slot can handle a wide range of betting rates because the stake can be changed from a minimum of 0.20 to a maximum of 500.00.
You'll need to look at the pay table, which you can access by clicking on the "pay" button on the right side of the page, in order to accomplish this.
The pattern of the pay lines that are active in Divine Ways is displayed in the pay table. These are helpful to observe, but you don't need to memorize them because the game will know when you win without your intervention. 
Additionally, you'll be able to see the requirements for winning a prize. The value of each symbol in this video slot might change, but you must match at least three to receive a payoff. Lower value symbols include the letters that stand in for the playing cards, while higher value symbols include more eye-catching pictures like tigers and dragons. 
Divine Ways Bonus Features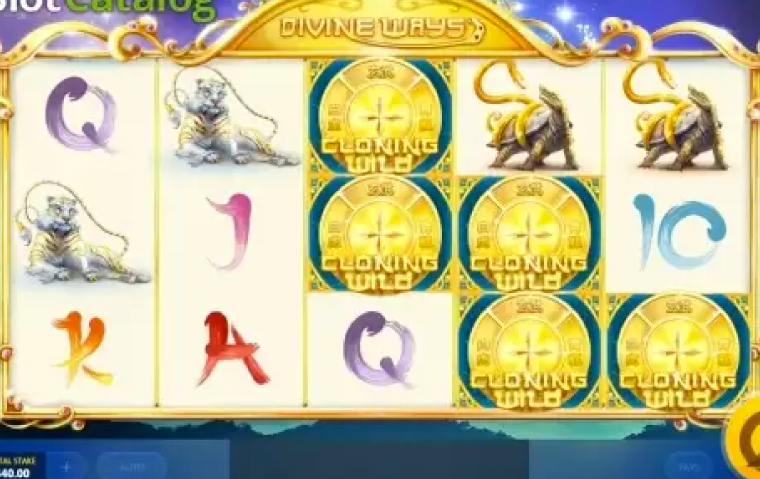 Cloning Wild feature moves across the reels and lines, transforming random positions into wild symbols. You usually get six or so of these in a row. If it fills all positions, your horoscope predicts a prize of 800 times your stake. Working from the left side of the reels, your win is paid out when a symbol matches a payline pattern. 
How To Play Divine Ways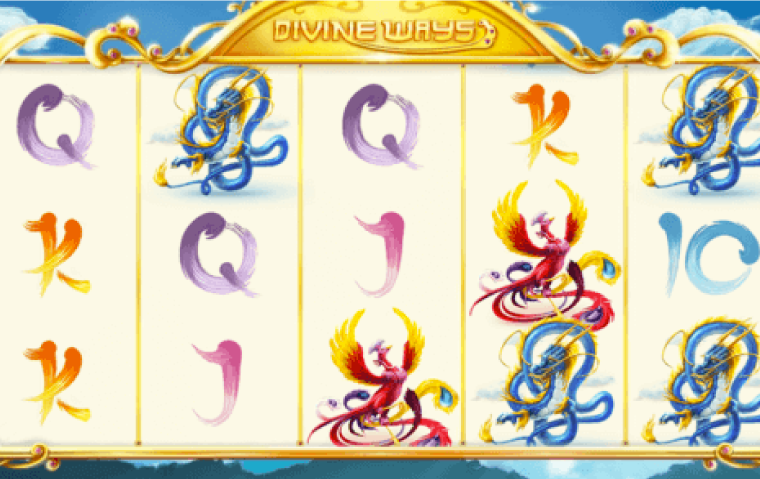 Any of these animals will pay out 25 if you land three of their zodiac signs in a row. If you get four, you'll be eligible for 50. If you're really lucky and get five in a row, you'll receive a divine blessing of 150. There are the standard playing card symbols, which have been elegantly drawn to resemble Chinese brushstrokes. Three tens equal four, and five tens equal twenty. While three Aces will only get you eight, five Aces will get you 40. On the lower-paying cards, this is not a bad payout.
Divine Ways Review Summary
Red Tiger Gaming's Divine Ways is a simple to use online video slot. The lack of features can make it seem a little bit simplistic, but the chance to earn x800 more than makes up for this. Divine Ways is available to play on PC, and mobile. Even if you are not a dragon, this elegant and engaging game should bring you luck!