Thunderkick's Fruit Warp casino slot is a unique take on traditional fruit machines. You'll play with strawberries, grapes, oranges, and other fruits — all of which look surprisingly realistic thanks to the stunning 3D graphics. You can match up to 9 identical symbols across the screen, more than in most other slots, to grab top prizes, and you can increase your winnings with the innovative Fruit Modes feature. Read on to discover more in our Fruit Warp slot review. 
Fruit Warp Slot Technical Features
The Fruit Warp mobile slot boasts luxurious visuals with a sleek, minimalistic style. Nine fruits appear across the screen, including Dragon Fruit, Cherries, Grapes, Oranges, and Star Fruit. The soft green background, drifting bubbles, and relaxing music combine to make playing Fruit Warp a more soothing experience than more energetic slots. 
The Dragon Fruit is the most valuable symbol, awarding up to 216x your bet, while the Cherries pay the smallest prize — 15x for all 9. 
Other solid prizes are available. For example, match 9 Bananas, Oranges, and Strawberries to win 30x, 27x, and 24x your stake, respectively. There are no Wilds or Scatters in Fruit Warp. 
Thunderkick's Fruit Warp slot UK has a RTP of 97%. It accepts bets between £0.10 and £100. 
Fruit Warp Bonus Features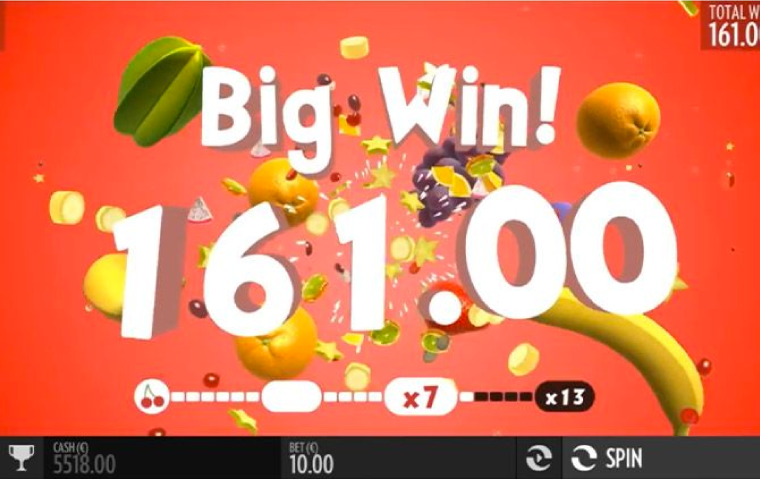 The Fruit Mode is the main feature in Fruit Warp:
Fruit Mode
Each symbol that matches the type chosen for the Fruit Mode fills 1 step on the Warp Meter at the bottom of the screen. Certain steps on the meter award additional lives or dynamic win multipliers when you reach them. You'll win a respin if you match 1 or more symbols with the Fruit Mode type, unless you have already filled the Warp Meter. 
Dynamic win multipliers grow in value with every win until you activate them, at which point their value will become fixed. The amount of symbols you match will determine how much the win multiplier increases. 
If you can trigger an extra life, you'll win an additional respin if none of your symbols match the Fruit Mode type. An extra life won't award a step increase, though. 
How To Play Fruit Warp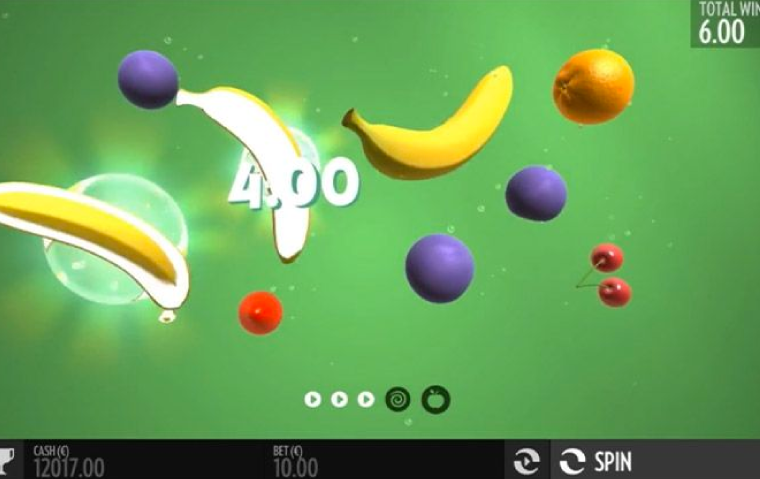 You might be surprised by Fruit Warp when you play it for the first time. There are no visible reels or positions: just 9 fruits rotating in a dreamy fashion on your screen. But it's still easy to pick up, especially if you take a few moments to browse the rules and paytable first. 
When you play Fruit Warp slot, your aim is to match 3 or more of the same fruit symbols to win a prize as per the paytable. Each fruit awards a specific set of prizes for up to 9 matches. 
But if you land 4 of the same symbol, you'll win a portal respin and the rest of the symbols will be replaced with new ones. This can help you win a bigger prize on a single spin. Match 5 or more symbols to activate a Fruit Mode — we'll explore this later in our Fruit Warp online slot review. 
Press the icon resembling a casino chip to open the bet setup menu, and choose from the range of stakes available (up to £100). Next, use the SPIN button in the bottom-right corner to start playing: the 9 fruit symbols will drop off the screen and a set of new fruits will replace them. 
Any win you create will be added to your overall winnings and play will continue. Your current stake is displayed in the BET meter at the bottom of the screen, and your remaining balance is shown in the CASH indicator. Press the button featuring a grid of dots to view the paytable or game rules. 
Fruit Warp Review Summary
Thunderkick's Fruit Warp is an innovative slot with outstanding graphics, great music, unique features, and some decent prizes on offer. If you want to play it for yourself after reading our Fruit Warp slot machine review, this stylish game has lots to recommend it. Fruit Warp is definitely worth your time if you're looking for a game  that feels like a breath of fresh air.