We're getting flashy today with a Game Changer slot machine review. The Game Changer online slot is based on a television game show with fantastic prizes. The upbeat song and colourful cartoon-style symbols bring all the thrill of a quiz to PCs and mobiles. If this sounds exciting to you, then keep on reading to find out more in our Game Changer online slot review!
Game Changer Slot Technical Features
The Game Changer slot online takes place in the middle of a retro game show studio that could have been broadcast in the 1970s. The board game bonus round, which is also the only extra feature in this game, is the main draw of the Game Changer slot machine.  You can win up to 6,000 times your investment, but the math model in this title isn't known for being forgiving.
The game has five reels, three rows, and twenty chances to win, with wagers ranging from 20p to £5 per spin on all platforms and devices. The RTP is a respectable 96.06 per cent on average, though it's worth noting that this is a highly volatile Realistic game. The number of symbols and several of the symbol values are exceptionally high. This keeps the base game, which is feature-free; relatively interesting.
As mentioned, the main draw comes when you physically make a board game out of symbols around the edge of the reels, and you roll dice to move a marker around the board. This bonus game can last for quite some time, and each special symbol has its own board game function. This is an unusual slot, and whether it is a 'game changer' is up to you. 
Game Changer Bonus Features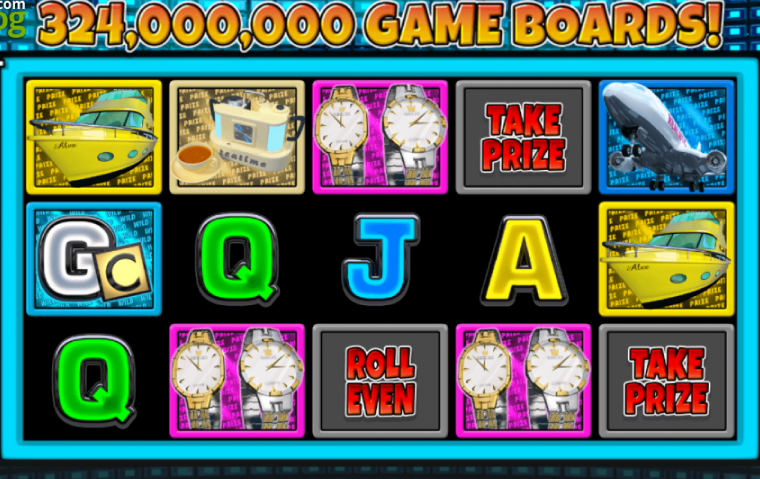 Tons of Symbols!
The Game Changer slot has so many symbols that it can actually be considered a Game Changer slot bonus feature. Here's a list of the mass of symbols on offer, all inspired by game show prizes of course!
10, J, Q, K, A:

X4, X8, X80

Teddy Bear:

X8, X20, X160

Coffee Maker:

X16, X40, X320

Watches:

X24, X60, X480

Sports Car:

X32, X80, X640

Yacht:

X40, X100, X800

Airplane:

X48, X120, X960

G.C. Logo:

X200, X1,000, X100,000

Take Prize:

X4, X20, X2,000

Roll Even:

X6, X30, X3,000

Double Trouble:

X8, X40, X4,000

Respin Reel:

X10, X50, X5,000

Random Stop:

X20, X100, X10,000

Win All Prizes:

X30, X150, X15,000

Level Up:

X40, X200, X20,000

Trail Run:

X100, X500, X50,000
Game Board Bonus
It's all about triggering the Game Board bonus feature in the Game Changer slot UK and it's done in an unexpected method. You must land a combination of high-value symbols around the screen's edges. In other words, you must fill reels 1 and 5, as well as rows 1 and 3, with any symbol other than the low-value royal symbols.
When the indicator lands on a symbol around the edge, it performs a specific function, effectively turning it into a board game for you. The total winnings will be displayed in the centre three icons, and pressing the spin button will now roll a pair of dice instead of spinning the reels.
When you roll the dice, you'll earn a total between 2 and 12, and the highlighted indicator will move clockwise around the board. "Take Prize," "Roll Even," "Double Trouble," and "Respin Reel" are all covered with an X and the number 3.
The number 3 denotes how many more dice rolls you have until these symbols become active (and before they are active nothing happens when you land on them). All other symbols have multiplier values, and the GC logo symbol is always displayed in the bottom left corner.
The normal high-value symbols pay 1x to 6x (the plane being the most), and landing on the "excellent" prize positions does the following:
Win All Rewards -

the player wins all of the prizes on the board one by one.

Trail Run -

earns you a minimum of two prize spots at random.

Random Stop -

gives you a prize position won at random.

Level Up -

Increases the value of all reward spots.

When you land on the

GC symbol

, it illuminates a "game-changer" letter and illuminating all letters awards you a 50x multiplier.
You can also potentially land in one of four "bad" locations, which do the following:
Double Trouble -

the bonus game is over if you roll a double.

If you roll an

odd number

, you will lose the bonus game.

Respin Reel:

The reward position will respin, and the bonus round will end if a royal sign appears.

Take the Prize:

You will receive your whole winnings and the bonus game will be completed.
How To Play Game Changer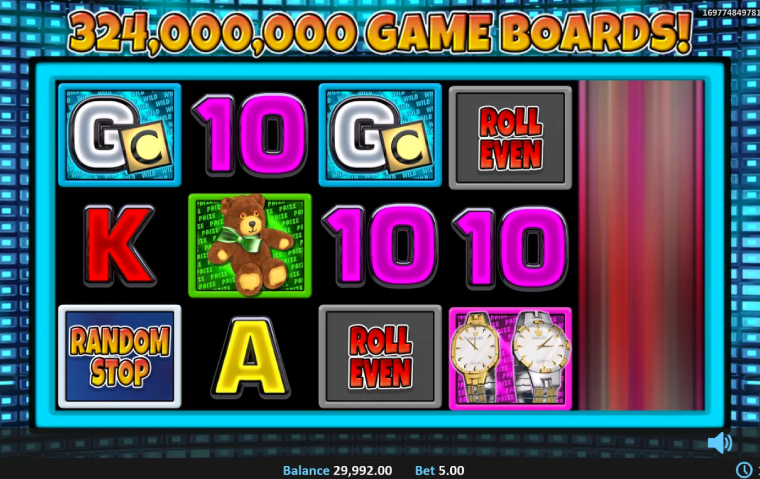 To play the Game Changer slot, first, load the game at Prime Slots. The game is optimized across all devices, and you can play the Game Change casino slot on the go thanks to the mobile slot version. Once the game has loaded you'll need to set your wager. As mentioned earlier in our Game Changer slot review, wagers on this slot range from 20p up to £5 per spin, so there's plenty of flexibility. Once you're happy with your wager simply click the spin button to set the reels in motion. The reels will then spin and stop at random and winning combinations are made up of three or more matching symbols on an active payline starting from the leftmost reel. All payouts are made in accordance with the paytable. 
Game Changer Review Summary
If you like what you've read in our review, and want to give the Game Changer slot machine a try, then sign up and play today at Prime Slots.