We're taking a fantastical journal back in time in today's Ivory Citadel online slot review. With Games Global's Ivory Citadel slot UK, embark on an exciting adventure to the medieval Ivory Citadel. The Ivory Citadel casino slot transports you to a magical world with its stunningly realistic graphics and animations. Both huge rewards and intriguing features, such as a free spins round with up to 12 spins possible, are offered in the Ivory Citadel slot machine The concept offered in this game will appeal to fans of the classic Ren-Faire, so if that's you, keep on reading our Ivory Citadel slot machine review to find out more.
Ivory Citadel Slot Technical Features
The Ivory Citadel, which serves as the game's name and has a stunning structure that dominates the top of the screen, is the main focus of the Fantasy-themed slot machine Ivory Citadel.
It is played on a grid with five reels and three rows and contains 20 paylines. Ivory Citadel has sinister, elaborate markings and a stunning background scene that showcases the castle. It resembles a set from a popular fantasy TV show like Game of Thrones. A large mountain's peak is dominated by a massive fortress with many towers and high walls, which is a commanding sight. Smaller, forested mountains that are partially hidden by wispy clouds surround it.
A winding road, perched on a thin wall, leads from the citadel down to the bottom of the screen.
Beautifully modeled rushing waterfalls cascade over ridges below the reels. Ivory Citadel also has a powerful soundtrack that gives it an epic atmosphere like Lord of the Rings.
When compared to other online slots, which frequently settle for recycling icons, the Ivory Citadel slot game offers a large variety of unique symbols. You will receive 2.50x, 8x, or 20x your initial stake if you manage to line up three, four, or five instances of the Ivory Citadel Logo on a pay line.
The Red Tiger symbol, which has vivid yellow eyes and golden stripes, has a payout range of 1.50x–15x. With its curled horns and gilded highlights, the Purple Bull can return up to nine times your wager. The Green Snake can pay out up to 6 times your wager while its tongue and fangs are protruding.
If you match four Aces, Kings, Queens, or Jacks, you can win up to 4 times, 3 times, 2.50 times, or 2 times your wager. Additionally, icons for Wilds, Mysteries, and Free Spins could appear on the reels.
The online slot machine Ivory Citadel has a medium volatility rating and a 96.03% RTP, which comfortably places it within the market average and makes it available to the majority of players.
An amount between 0.10 and 100 can be wagered on each spin.
Ivory Citadel Bonus Features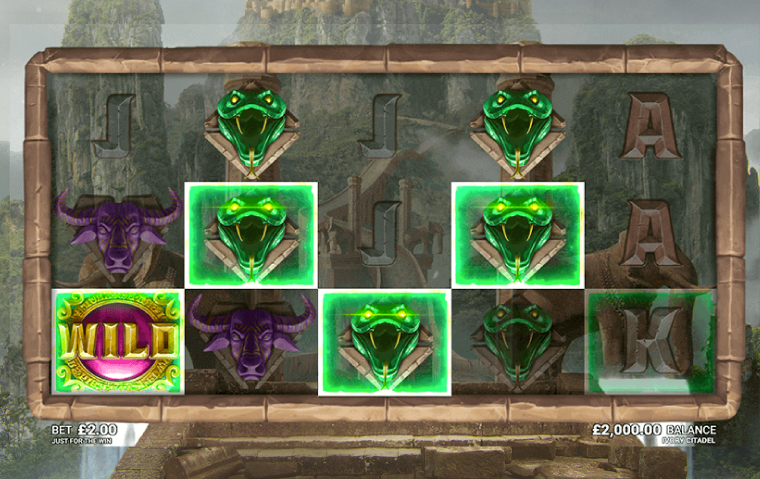 Wild Symbol
The Wild symbol can be used to substitute every other symbol, with the exception of the Free Spins and Mystery symbols. By replacing other symbols, wilds can complete winning combinations and help with winning rewards.
Mystery Symbol
The Mystery symbol can show up in both the main game and the Free Spins bonus. Mystery symbols can transform into any other symbol after a spin, with the exception of the Free Spins sign.
Free Spins
You must land three or more Free Spins symbols to activate the extra feature of the Ivory Citadel slot game. The number of spins you get depends on how many Free Spins symbols you match:
8 free spins for 3 free spins symbols.
10 free spins for 4 free spins symbols.
12 free spins for 5 free spins symbols.
If any Mystery symbols show up during your free spins, they will transform into Sticky Mystery symbols. Sticky Mystery symbols that are the only ones on a reel transform into Wilds and stay there for the duration of the feature when they do so.
How To Play Ivory Citadel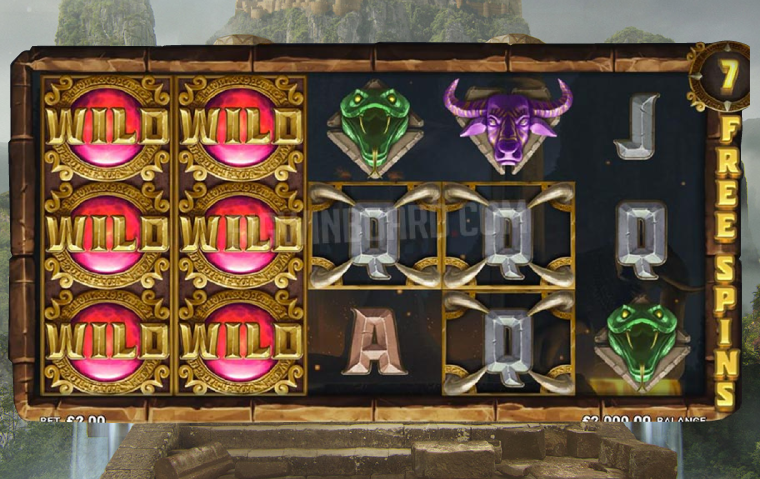 Playing the Ivory Citadel slot is by no means intimidating, despite the Ivory Citadel's intimidating appearance. The fictional setting depicted has no electricity, but the Ivory Citadel slot game is completely modern and accessible on any platform, including mobile devices via the Ivory Citadel mobile slot.
It's easy to adjust your stake between spins in the base game. Click the image of a casino chip to see the menu for placing bets. There, you can choose from a selection of bets. Simply click on the wager you want to use as your stake.
To start, click the "spin" button. After a brief spin, the reels will halt and show 15 randomly selected symbols. Three or more symbols must be matched to produce a winning combination.
Ivory Citadel Review Summary
The Ivory Citadel slot machine is a very unique title that is perfect for soothing your fantasy cravings. If you've enjoyed our Ivory Citadel slot review, sign up and play today at Prime Slots.