Merkur gaming's Magic Monk Rasputin game combines history with the intriguing world of slots.
The Magic Monk Rasputin slot, which uses the same ladder-winning technique as the Black Hole slot, transports you to the days of the Czars and puts you face to face with the enigmatic and mystical monk himself.
Magic Monk Rasputin Slot Technical Features
Just like the mystic himself, the payout rules, like everything else about this slot game, are a little unusual. Instead of providing a clear experience like many 3-reel, 5-pay line slots, the Magic Monk Rasputin casino slot takes a fresh approach. Instead of receiving immediate payouts, you will be able to save your winnings in this slot game in order to receive larger payouts on subsequent spins.
Instead of employing symbols from the Rasputin stories, such as his body parts, poison bottles, and firearms, this slot uses Russian imperial jewels and Faberge eggs as symbols on its reels.
However, this does not rule out the possibility of the mystery monk making an appearance.
His visage does appear from time to time, staring you down and ruining your rewards while creepily smirking at your misery.
The RTP (return to player) of Magic Monk Rasputin is 96.2%. 
Magic Monk Rasputin Slot Bonus Features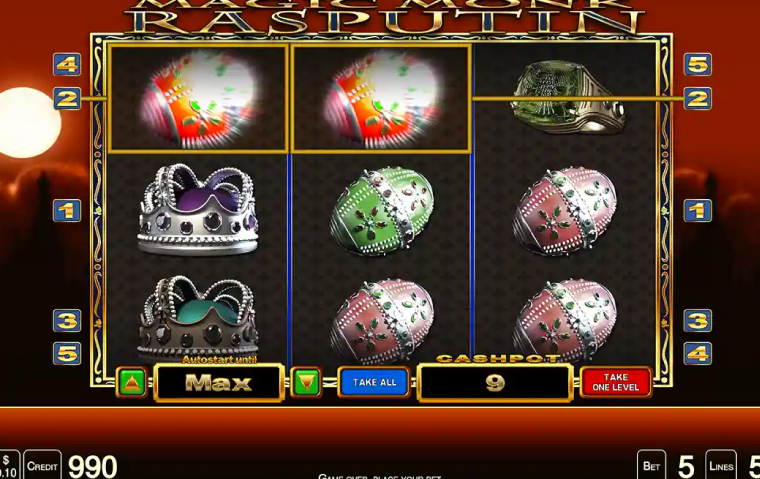 Prize Ladders
The Magic Monk Rasputin slot machine's bonus features revolve around three reward ladders. The first ladder has eight tiers and offers prizes up to 40.5 times your bet amount. Collecting blue ring symbols will progress you 1-2 steps up the ladder, while collecting red rings will advance you 2-4 stages. At 3-6 steps, the green circles will move players the most.
The most lucrative reward ladder is the second one, and players can only move up it by collecting crown symbols. There are 16 tiers on this ladder, and the prize is 2,500 times your bet. The last ladder, which has eight stages and a potential payout of 62 times your bet, is the mid-tier reward. This staircase is climbed by collecting Faberge eggs of various hues.
Depending on the symbols that wind up on your paylines, all three ladders are climbed at the same time. Your winnings are constantly kept in a "cash-pot," which may be emptied or partially emptied using the on-screen controls. Any winnings from the "cash-pot" can be bet on in the slot's side games. By placing 50/50 bets on a risk ladder or predicting the color of the next drawn card in these side games, you may double your winnings. Both side games will allow you to boost your reward several times while also allowing you to lose part or all of it if you make a mistake.
Rasputin
When a segment of a prize ladder is completed, players have the option of claiming their prizes, redeeming a portion of their earnings, or continuing to play for higher payouts. However, if a player lands the Rasputin sign, they will forfeit all ladder progress.
How To Play Magic Monk Rasputin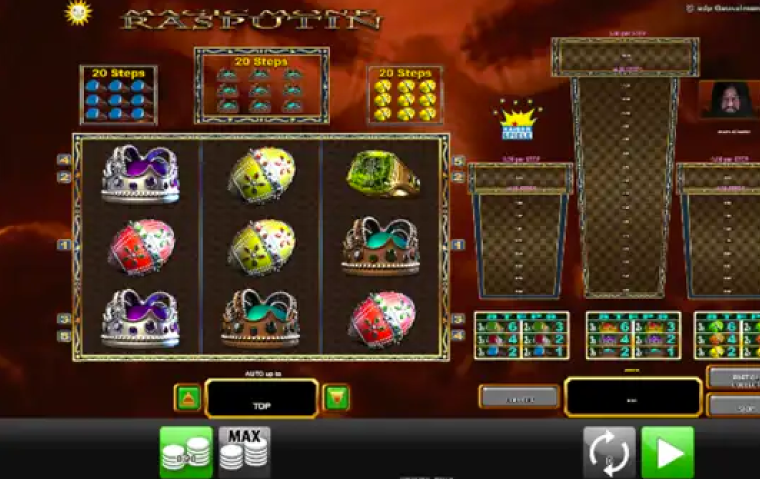 The Magic Monk Rasputin slot UK is a little different from what we're used to, but that's part of the appeal. With only 5 paylines, getting started with this slot is simple if you know what you're doing. You must first pick your wager using the bet selector. The Magic Monk Rasputin slot was created to appeal to a wide range of gamers, so finding a suitable stake is never a problem.
If you want to go all-in, there's a 'max bet' option that lets you play the Magic Monk Rasputin online slot with the highest wagering limits.
The prize ladders are the focus of this slot, and there are three of them. Each ladder pays out differently and is completed by collecting various symbols. The Rings will fill the lowest value prize ladder, the Faberge eggs will fill the medium-value prize ladder, and the crowns will fill the highest value reward ladder, where the jackpot will be won.
Magic Monk Rasputin Slot Machine Review Summary
In summary of our Magic Monk Rasputin online slot review, it will captivate you if you enjoy your online slots with a hint of mystery and intrigue. This slot, which features the mysterious real-life historical character Rasputin, is also ideal for history buffs. As previously stated, Merkur's creative ladder winning system is used in the Magic Monk Rasputin slot, which adds to the suspense as players try to see how far they can climb before the sinister Rasputin emerges and stifles their enjoyment. You can play this slot at Prime Slots on any device you like including on the go vias the Magic Monk Rasputin mobile slot. Sign up and play today.