There are themed slots inspired by countries, sports, jobs, and more, but how often do you come across a slot inspired by a classic novel? The Moby Dick slot uk is a one-of-a-kind experience played on a 5x3 grid and features striking cartoon-style graphics and clever ways of incorporating elements from the story. Keep reading this Moby Dick slot review to find out why this unique game should be next on your list!
Moby Dick Slot Technical Features
Against the backdrop of Captain Ahab's ship on the sea, you will find the Moby Dick casino slot's grid. The developers went all-out with their graphics for this high-seas offering, showcasing intricate details such as wooden and metallic textures and an overall weathered art design. The Moby Dick slot machine's symbols feature nautical elements like anchors and ship's wheels, but also the iconic characters of the novel like Ahab and of course Moby Dick himself.
The Moby Dick online slot has an average RTP of 96% and is played on 25 paylines. With its classification as a medium-volatility game, you might potentially earn regular payouts over a longer playing period. This style of gameplay is especially ideal for players willing to invest more time and money in the game.
Moby Dick Bonus Features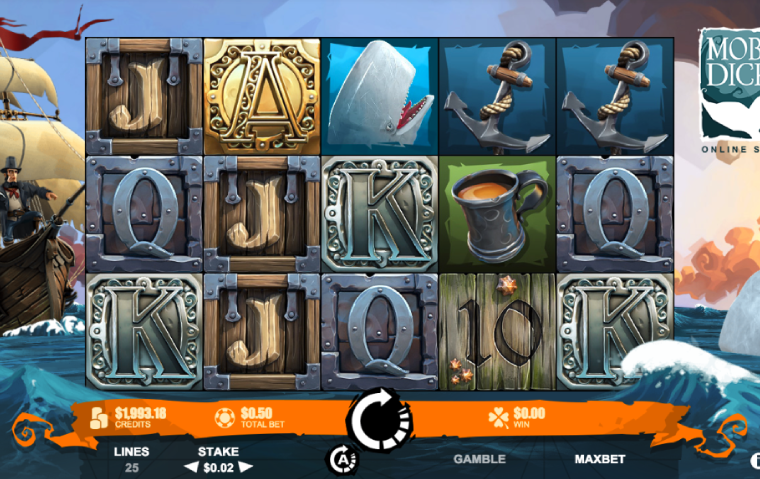 In this next part of the Moby Dick slot machine review, we will take a closer look at the bonuses featured in the game and naturally the rewards that come with them.
Frozen Symbols
Randomly triggered when you play Moby Dick slot's main game, this mechanism activates after every non-winning spin. As you receive a respin to get another chance, some symbols remain frozen to give you a headstart. More matches mean more resins, making this one of the slot's most innovative and generous offers.
Free Spins
Another great Moby Dick slot bonus feature are of course the free spins. Not only will you be granted 20 spins, but you could also be granted a 4x multiplier on all your wins. Frozen symbols also apply in this round, so you have even more chances of winning.
How To Play Moby Dick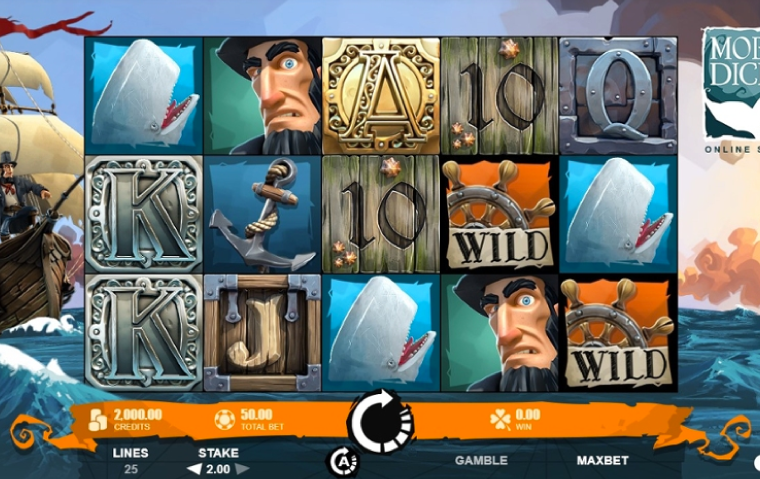 The Moby Dick mobile slot, while featuring quirky artwork and creative bonuses, functions pretty much like any other regular slot game. The same objective of matching symbols across the reels applies here, while also asking the player to place a bet for each spin. You can place a wager anywhere between 0.25 and 50, which will cover all the paylines.
So you won't miss any crucial details, be sure to read the instructions before you begin! These are easily accessible from the game's menu.
Moby Dick Review Summary
So what's the verdict on this game as we reach the end of this Moby Dick online slot review? It is without a doubt a resounding "Play this!" A refreshing and unconventional take on slot games, with a standout theme, gorgeous graphics, and cool bonus features, the Moby Dick online slot is worthy of your next slot game adventure.