Interested in the Stampede slot uk but want to know more before jumping in? That's what this Stampede slot review is for. Keep reading to find out more about the features of this 5x4 game set against the backdrop of a beautiful African sunset and all the rewards you could get if you're lucky enough to land winning spins on the Stampede casino slot.
Stampede Slot Technical Features
The Stampede online slot features striking graphics in bold colours, from its highly detailed background to its grid filled with animal symbols. Here you'll find painterly depictions of giraffes, elephants, gazelles, cheetahs, and many more gorgeous animals.
As a slot classified as medium-volatility with an RTP of 95.27%, the Stampede slot machine with its 1024 chances to win offers you the potential to secure lower-value but more frequent wins. However, its RTP is quite low as slot games go, which means that the game has the edge over you. If you are a player who relishes a challenge when they play Stampede slot and games similar to it, give this challenging slot a try.
Stampede Bonus Features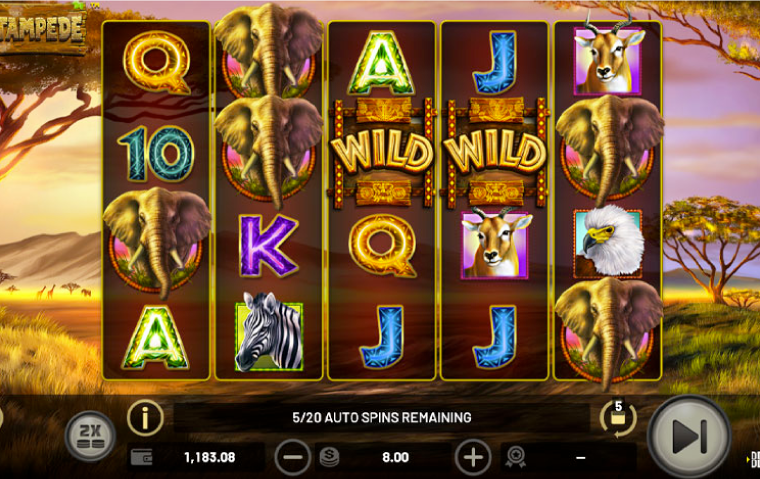 Next up in this Stampede slot machine review, we'll cover what features you could unlock with the Stampede slot bonus!
Free Spins
Because it already has plenty of chances for you to win, the Stampede slot machine is somewhat low on bonuses in comparison to other slots. However, it does offer a very generous bonus with its free spins feature. These free spins are activated by landing at least 3 scatter symbols on the reels. You could earn anywhere from 8 to 20 free spins, with each prize also including a cash bonus starting from 80 to 800 coins! What's more, this bonus also includes wild multipliers, which means you could amass a pretty huge amount once those spins are up.
How To Play Stampede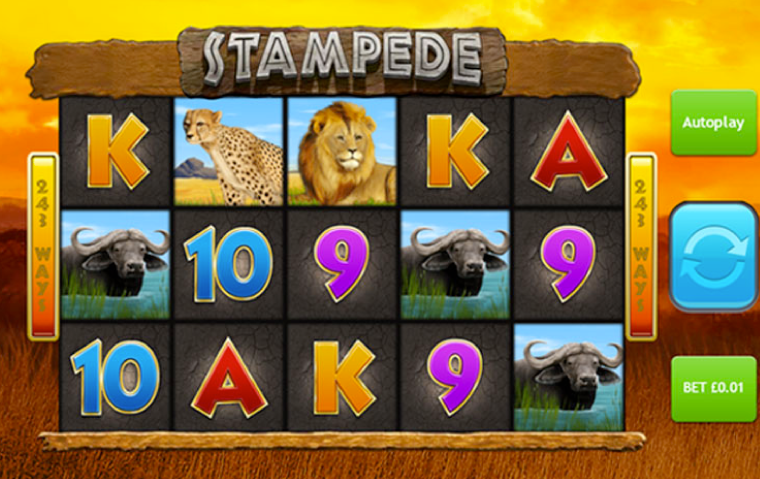 The Stampede mobile slot delivers on what you can expect of standard slots, with the same features and objectives. Your primary goal in this game is to land winning spins with matching symbol combos. These wins will then rack up your prize money. Winning amounts differ considerably from player to player due to several factors: how much that symbol pays out and how much you yourself have bet in the game. For a greater chance at taking home the top win, you need to stake the maximum bet amount of 50. If you're more of a low-stakes player, however, you can go for as low as 0.25.
So as not to miss any crucial details, take a look at the instructions before you start playing! With tips and tricks to match, this in-game manual could help you maximise your gameplay according to your goals.
Stampede Review Summary
The Stampede online slot is a breathtaking journey through the African savannah and a thrilling game to boot. And our verdict at the end of this Stampede online slot review? This is a definite must-try for players who love animal themes, as well as those seeking out a challenge.