Red Tiger Gaming, a well-known independent developer, created the Thor's Lightning online slot.
With a top payout of 1800x your wager amount, this medium volatility slot machine already has a lot of potential. Although we have seen a lot of Nordic-themed slot machines before, Thor's Lightning slot machine is shaping up to be a genre giant, with two distinct free spins rounds. In this Thor's Lightning online slot review, we'll take you through the game's most notable features and themes to help you decide if you wish to try your luck with the Gods.
Thor's Lightning Slot Technical Features
We always look forward to when Red Tiger Gaming introduces a new online slot because we know it will have a one-of-a-kind feature that we haven't seen before, and the Thor's Lightning slot hasn't disappointed. With its distinctive 7x7 grid, generous RTP of 96.08% and free spins gained by chipping away at the enormous stone in the center, the Thor's Lightning slot UK stands out from the rest.
This slot also has two free spins rounds to intrigue and engage you, as well as breathtaking images that transport you to Valhalla, the domain of the Gods. The reel is set in a snowy landscape with mountains behind, and the graphics do not disappoint. The music is instrumental and the string instruments add a sense of grandeur but also an ominous, powerful atmosphere to compliment the nature of the slot's namesake. A golden mask of Thor's face serves as a wild symbol. The symbols include nordic runes, Thor's infamous hammer Mjolnir, the tree of life Yggdrasil, owls, and wolves.
Thor's Lightning Slot Bonus Features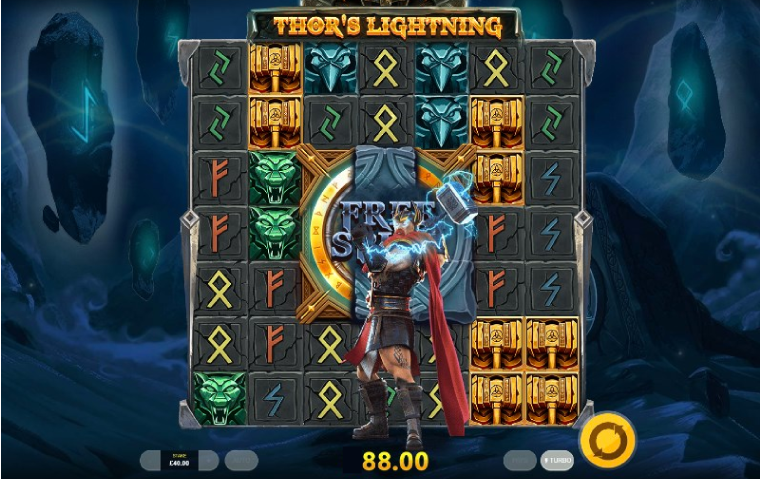 Thor's Lightning Free Spins
There are two free spins bonus rounds in Thor's Lightning slot. In the center of the reels is a large stone branded 'free spins.' Winning combinations that align with the stone will start to destroy its surface. If you land enough combinations near the stone, it will split open, revealing a gilded plaque. When the plaque is uncovered, one of two free spins rounds will be available.
Muspell Spins
In this free spins round, only the highest paying symbols appear. There is also an active lava bonus that may be used to destroy symbols, improving your chances of hitting a larger and better combination.
Valhalla Spins
In this free spins round, only golden shield icons emerge. These shields will lock into position and display multipliers, potentially boosting your payout.
Modifiers
Players can get two multipliers at random throughout the base game. The first is titled 'Lightning Strike.' Thor's lightning will be used to eliminate low-paying symbols from the reels or to turn random symbols into wild symbols. The second modifier, 'Hammer Strike,' features Thor hurling his hammer Mjolnir, which removes or moves symbols to form a winning combination.
How To Play Thor's Lightning Slot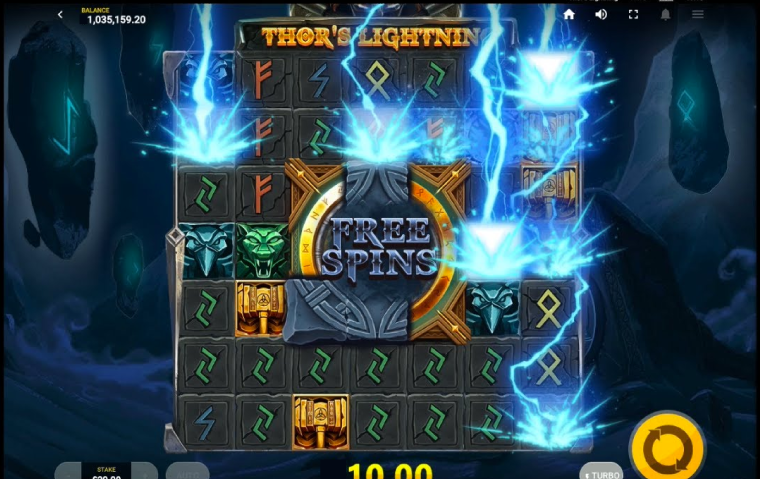 The Thor's Lightning slot game is available at PrimeSlots on any platform, including the Thor's Lightning mobile slot. The Thor's Lightning slot game stands out from the crowd. This slot features a 7x7 grid and rewards for clusters of 6 or more symbols. When a winning cluster is produced, the symbols used burst and additional symbols replace them, allowing for many wins from a single spin.
To begin playing Thor's Lightning casino slot, you must first decide how much you want to bet. This is done using the bet selection on the side of the reels. Thor's Lightning slot game, which caters to a broad spectrum of players, allows you to gamble casually or go all-in. There are no paylines to worry about because it employs a cluster-pay system, which eliminates the need to cope with annoying components such as activating and deactivating lines. When you're satisfied with your bet, click the spin button to begin!
Thor's Lightning Slot Review Summary
In summary of our Thor's Lightning slot machine review, it's a high-quality slot game from Red Tiger that looks fantastic. The medium volatility means it will pay out reasonably frequently, yet getting to the free spins round will be challenging. However, the gameplay and Thor's lightning and Mjolnir elements truly amp up the excitement in the standard game, so this is certainly a slot to try. See if you have the favor of the gods and play Thor's Lightning slot UK by heading along to PrimeSlots today!