We're venturing into the world of myths and legends with today's Valkyrie Fire online slot review.  Norse-themed blockbuster movies have recently been quite popular, whetting gamers' appetites for the mythological slot theme. There are many slots in that category that all look the part, but Barcrest's Valkyrie Fire slot UK stands out the most. This five-reel, ten-payline slot embraces many Norse influences and offers a wide range of features. 
This slot machine has more than enough features to keep players entertained, such as wild multipliers, free spins, and fire-stacked wilds. You can choose how and where your slot play takes you by playing the Valkyrie Fire casino slot on a desktop, a mobile device, or a tablet (through the mobile slot). So, if all this sounds like something you want to dive right into, keep on reading our Valkyrie Fire slot machine review to find out more. 
Valkyrie Fire Slot Technical Features
A Valkyrie was a feminine character who presided over combat deaths in Norse mythology. Although they are frequently depicted as graceful women, as in this picture, the Valkyries were actually the god Odin's aides, and they were notorious for their violent magic and bloodshed. The Valkyries, also known as the "choosers of the slain," would continue to be devoted to Odin and would fight for him in the decisive battle of Ragnarok.
Even if you didn't recognise the titular Valkyrie, many people would still recognise other characters and components from this theme because this slot is obviously based on the Norse mythology theme.
The Valkyrie Fire slot machine's reels are perched atop a longboat in the Viking style, which has been intricately carved with dragon heads on either side and interlaced wood pieces. Except for a few stars and a mist that moves across the water from one side of the reels to the other, the background is completely dark.
There are several figures that are well-known to fans of mythology slots on the reels. The main symbol is the Valkyrie, but the reels also feature a golden Odin and a blue Frost Giant. A shield, a wolf, a raven, and a Viking ship are further emblems.
Additionally, there are colourful playing card symbols that have subtle details added to assist them to blend in with the overall design. The numbers 1 through 10 that represent the slot's paylines are located on either side of the reels.
The audio closely resembles a classic casino slot machine, complete with the well-known sound of the reels spinning and landing with a click. Only when a particular symbol appears on the reels, together with thunder and lightning bangs, can you truly tell that you are playing a Norse slot machine.
Valkyrie Fire Bonus Features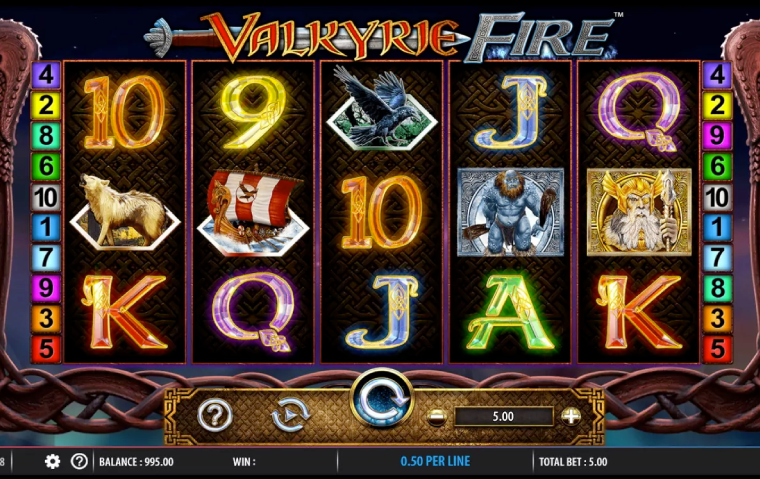 Despite having a lot going on in the visual department, the Valkyrie Fire slot bonus features are really straightforward, in fact, there's only one.
Free Spins
Despite having just one bonus feature, the game has the potential to pay out enormous prizes of up to 10,000 times your initial wager. Three to five scatters will trigger 10 free spins with Fire Stacked Wilds and a payout of 5 to 500 times the original wager. Free spins are not re-triggerable.
On a really good day, Fire Stacked Wilds can cover the entire screen during the feature and pay the highest payout on this slot machine for a single spin. These wilds can occur on any reel during the feature.
How To Play Valkyrie Fire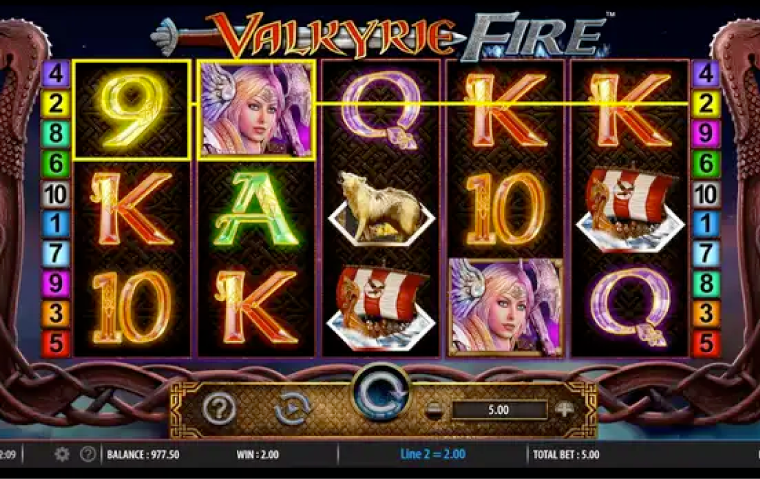 To play the Valkyrie Fire slot machine, load the game at Prime Slots. The player panel, which houses all the options, is located below the reels, as is typical for slots. The options that let players choose their total bet amount are on the right. The plus and minus signs adjacent to the total can be used to change this. A minimum bet of 0.10 and a maximum of 500.00 can be placed. The 10 paylines are fixed, thus they cannot be changed, but they do indicate to players that the minimum and maximum stakes for each of the 10 lines will be between 0.01 and 50.00.
When you are content with your selections, click on the spin button in the panel's centre to start the reels spinning. The question mark symbol will take you to the slot's rules and paytable.
Valkyrie Fire Review Summary
If you've enjoyed our Valkyrie Fire slot review and want to give this game a try for yourself then sign up and play today at PrimeSlots where a whole world of great casino fun awaits you.