We're feeling the magic today at Prime Slots with our Wizard of Gems online slot review. 
Play n Go's Wizard of Gems online slot is a gem-themed slot with a lot of charm. This is a five-reel, twenty-payline game with jewels that disappear after a winning combination to expose new lines. Keep an eye out for the Star Scatter, which can lead to a slew of free spins.If this is intriguing to you, then keep on reading our Wizard of Gems slot machine to find out more. 
Wizard of Gems Slot Technical Features
Play'n GO designed the Wizard of Gems slot, which can be downloaded on a variety of platforms, including mobile and tablet devices via the Wizard of Gems mobile slot. Players who manage to land five consecutive wins and gain a spectacular 5x multiplier will be rewarded handsomely with this Wizard of Gems casino game.
Wizard of Gems is a five-reel, twenty-payline slot machine. Players will not be disappointed with a variety of fascinating features in the basic game, as well as a bonus round of free spins and the chance to win a top reward of 625,000 coins.
This game is similar to some of the most well-known gem-themed games. The goal is to build as many winning streaks as possible. Each time a successful combination of symbols appears on the reels, it will vanish, allowing new symbols to fall into place. The multiplier increases in proportion to the number of victories - 1x, 2x, 3x, and 5x; exciting stuff!
This game is exactly what it says it is. With the colourful gems, players will hope to land a variety of winning combos. The game will pay out if you match 3, 4, or 5 symbols on any active payline. Because the minimum bet is only 0.20, this game is suitable for players of all skill levels.
For matching three Royal Blue diamonds, the prize is 0.02; for matching four, it's 0.08; and for matching five, it's 0.40. The Sky Blue gem will bring in a little more money: 0.02 for three matches, 0.10 for four, and 0.50 for five. Matching the Purple gem pays 0.03, 0.10, and 0.60, while matching the Greens pays 0.04, 0.15, and 0.70.
Players may think these payments are poor at this point, but keep in mind that these are the payouts at the lowest stake, and that these figures can also be affected by the multiplier, as explained above. At 0.05, 0.20, and 1.25, the Orange gem pays out a little more.
However, gamers will be trying to match the top two gems on the reels. These are the Violet, which pays 0.07, 0.30, and 2.00, and the Red Heart, which pays 0.10, 0.50, and 5.00 to players.
Wizard of Gems Bonus Features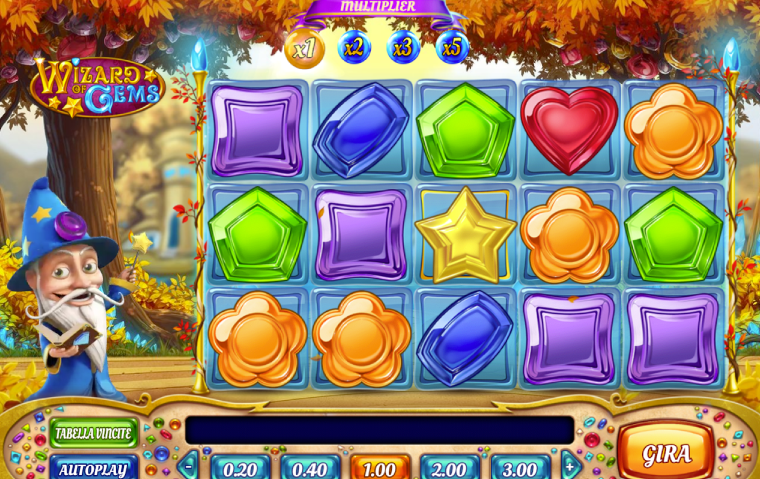 Wild Symbol
The first Wizard of Gems slot bonus feature is the wild symbol. The Book of Spells is a wild symbol that substitutes for all other symbols except the scatter star.
Cascading Reels 
When you win on one of these 20 paylines, the symbols disappear and new ones fall down from above, giving you another chance to win. Each time you win, the multiplier on that win grows from 1 to 2 to 3 to 5 times. If you win four times in a row, you'll keep winning thanks to the 5x multiplier.
Scatter/Free Spins
10 free spins are awarded when three golden star scatters appear anywhere on the screen. The wizard will then magically add anywhere from 1 to 9 more wilds to the screen, increasing the multiplier and making it easier to score a 1x win. Add in the fact that you can re-trigger the free spins by finding another three stars, for a total of 50 free spins, and you've got yourself a blazing round of wins if you're lucky.
How To Play Wizard of Gems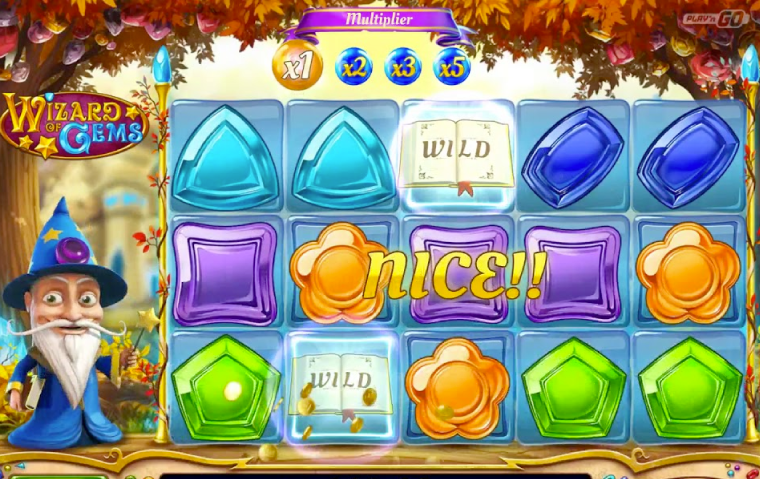 To play the Wizard of Gems slot machine load the game at Prime Slots. Wizard of Gems is a game that may be enjoyed by gamers of all budgets. Bets range from as little as £$0.20 to as much as £$50 per spin. The 'Paytable' is located to the left of your screen, and the spin button is located directly below it. To get started with the Wizard of Gems slot UK enter how much you'd like to wager. Once you're satisfied with your wager, click the spin button to get the reels moving. Winning combinations are formed of three or more matching symbols across an active payline, and all payouts are made in accordance with the paytable. 
Wizard of Gems Review Summary
We hope you've enjoyed our Wizard of Gems slot review! If you want to play the Wizard of Gems online slot for yourself then sign up and play today at Prime Slots.