Welcome to our Wolf Hunters slot machine review! In this Yggdrasil slot, you'll be playing the hero that a small village needs to save them from the werewolves that lurk about at night! It's not just the werewolves you'll need to look out for, as there are plenty of special features to keep you on your toes. So sit tight and try not to get bitten as we take you through this Wolf Hunters online slot review!
Wolf Hunters Slot Technical Features
Wolf Hunters is a video slot from Yggdrasil Gaming with 5 reels, 3 rows, and 20 fixed paylines. This game has medium-high volatility and an RTP of 96.3%. 
This slot takes place in a spooky village, not unlike one you might find in a horror story such as Dracula, as an imposing castle looms in the background. Of course, we're not looking at vampires here though in this Wolf Hunters casino slot, instead our Hunter and Huntress are out on the hunt for werewolves!
The symbols in the Wolf Hunters slot game include card suits (spades, clubs, diamonds, and hearts), wooden stakes, monster traps, poison bottles, and of course the deadly werewolf itself! 
Wolf Hunters Slot Bonus Features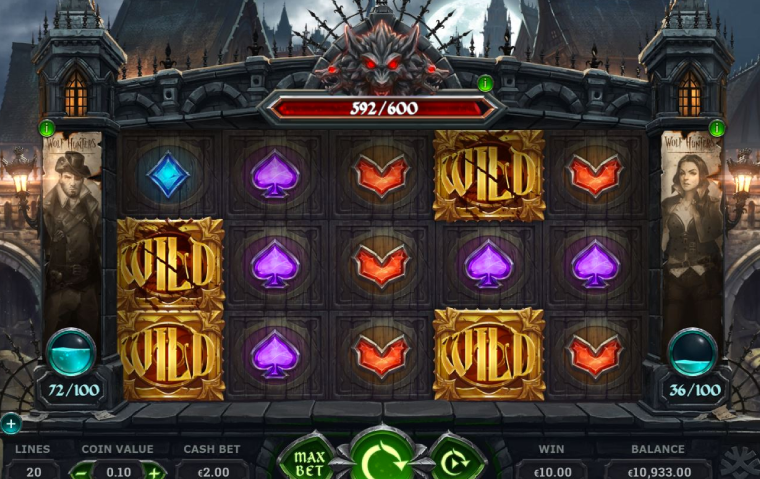 Free Spins
The amount of free spin options in the Wolf Hunters slot UK is sure to get you howling! Here's the breakdown of all of them, and how to achieve them:
Scatter Free Spins

are activated in the basic game by hitting two Free Spin symbols in a single spin. Players will be given ten free spins, with the chance to receive more.

In the

Hunter and Huntress Free Spins

mode, Free Spin symbols may be collected throughout all Free Spin modes. Collecting three Hunter Free Spin symbols improves the Hunter and awards you with two additional free spins. When the Hunter strikes the Werewolf after it has been upgraded, it changes into a wild that stretches up and down by one reel position. Landing three Huntress Free Spin symbols upgrades the Huntress and awards you with two additional free spins. When the Huntress hits the Werewolf after it has been upgraded, the Werewolf morphs into a wild that moves one reel position to the left. The upgraded hunter always attacks the werewolf first.

To activate the

Rage Free Spins

, you need the werewolf to appear. When the Werewolf appears on the reels in the base game, one randomized hunter attempts to attack it. If victorious, the hunter gains an extra +1 Rage point. Also, when the game initially loads, a random hunter will get a random amount of free rage points. Rage Free Spin mode is enabled when the hunter achieves 100 rage points. The hunter will gain 7 Rage Free Spins once the Rage Free Spins are enabled. The enraged Hunter is improved for the rest of the Free Spin session in Anger Free Spins, and no new Free Spin symbols or rage points are gained. After the Rage Free Spins are completed, the enraged Hunter's Rage total is reset to zero.

When the Werewolf's health meter reaches 0, you will be granted 10

Slayer Free Spins

. There are no Free Spin icons in Slayer Free Spins, and all Werewolf symbols on the reels have also been replaced with wild symbols. After completing the Slayer Free Spins, the Werewolf's health meter is restored to 600.
Wild Symbol
Wilds may occur in both the standard game and the Free Spin option. Each spin with wilds on the reels results in a respin, with all wilds staying sticky. All regular symbols may be replaced with wilds.
Werewolf Symbol
The werewolf is the top paying symbol and may occur on any reel. When it lands, a random hunter tries to hit them; when they do, the Werewolf symbol turns into a sticky wild and rewards one respin. If the Hunter misses, the Werewolf sign reverts to being a regular high-paying emblem. Each strike takes one life away from the Werewolf. Slayer Free Spins are awarded when the Werewolf's life total reaches 0/600.
How To Play Wolf Hunters Slot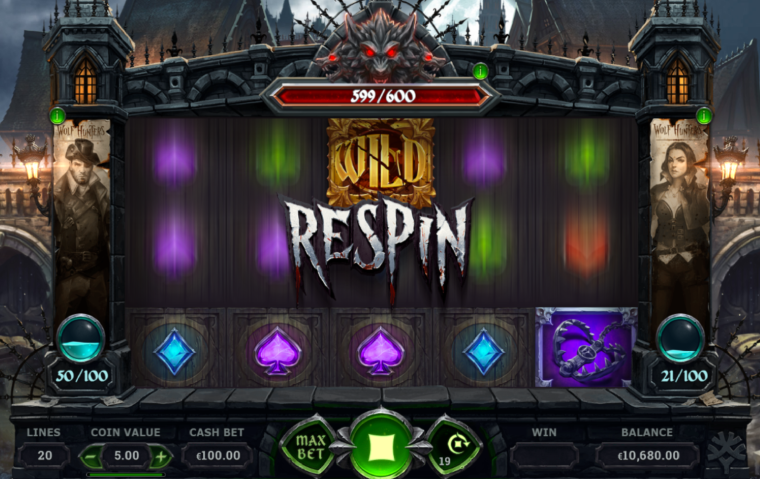 To play Wolf Hunters slot it's rather simple. Just head on over to PrimeSlots and search for the game there. Thanks to the Wolf Hunters mobile slot, you can also play this on the go on any device of your choosing! Be sure to select the settings you wish in terms of your wager, and click on the green 'i' icons around the reels for extra help and information if you need it. When you are ready, click on the green spin button at the bottom and you are away!
Wolf Hunters Review Summary
We hope you enjoyed our Wolf Hunters slot review! This game is jam-packed with features, but its volatility level means it is suitable for a wide range of players. You might need a little time to familiarize yourself with things, but when you do we're sure that you'll be howling with delight - just don't let the Hunters catch you! If you wish to play Wolf Hunters slot machine, head on over to PrimeSlots today. If this slot is not your thing though, we also have plenty of other games for you to sink your claws into!