Exciting Rainbow Riches Slots at Prime Slots
Prime Slots is the place to be for the highly entertaining Rainbow Riches slot games. If you want to find out more about these popular slots, don't go anywhere. On this page you'll learn all about Rainbow Riches slots and some of their many exciting features. These slots are bursting with fun and thrills because they have lots of exciting features. They're enjoyed by all sorts of players, including complete beginners.
Rainbow Riches is a series of online slots, most of which are developed by the provider Barcrest. All of the slots in the series are themed to Ireland and feature a lively leprechaun as their main character. There are also plenty of things associated with Ireland, such as green countrysides, rainbows with pots of gold, wishing wells and more. The slots are popular thanks to the entertaining gameplay and many special features they have to offer. The series is quite large, though each slot offers something different to make it stand out from the Mobiles and appeal to players.
Colorful Fun with Rainbow Riches Slots (About Rainbow Riches Slot Series)
As you can probably guess from its name, Slingo is a mix of slots and bingo. It's designed to be easily accessible and is aimed at both slots and bingo fans. Gameplay is straightforward and while there are several features, they don't get too complicated. Games are fast-paced and exciting, offering a unique prize structure. You'll find lots of Slingo games online - they come in many different themes (there are even some branded games) but they have the same core Slingo elements in common.
How to play Rainbow Riches
Rainbow Riches (the original) is simple to play. Choose a coin value and decide how many paylines (1 to 20) you want your bet to cover. Then spin the reels. Landing three or more matching symbols on a payline your bet covers from left to right gives you a win. The slot has three separate bonus features that are triggered by landing specific symbols.
Rainbow Riches slots work in mostly the same way. Nearly all of them use a standard slot grid with three rows and five reels, and have a set number of paylines that you can form winning combinations on. You can decide how many of the paylines you want to include in your bet. There are a number of bonus features you can trigger, usually by landing specific symbols on the reels.
Common Rainbow Riches Symbols
Slots that belong to a series have a number of things in common. These can include the theme, the layout, the features and the symbols. Below is a look at some of the common symbols found in Rainbow Riches slots.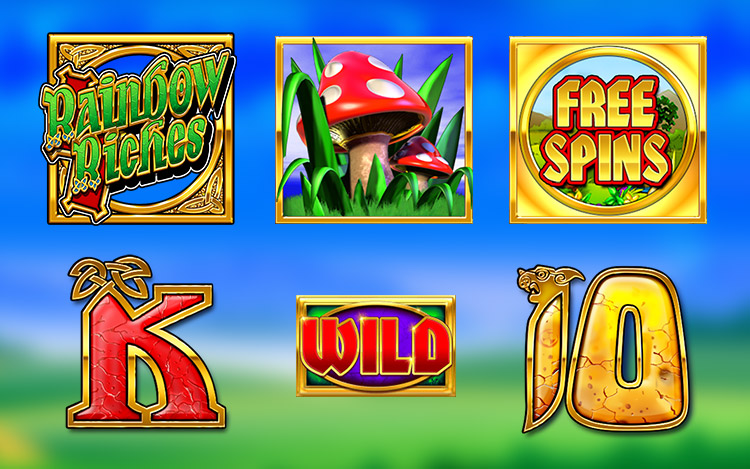 Standard Royals (10, J, Q, K, A)
Rainbow Riches slots have five low-paying standard symbols that are represented as the card ranks 10, J, Q, K and A. The 10 is the least valuable of the five, while the A is the most valuable.
Wild Symbols
The gold coin with a leprechaun on it is the wild symbol. This substitutes for all standard symbols and can help you to form winning combinations on the reels. It can also extend winning combinations.
Bonus Symbols
Slots in the Rainbow Riches series are known for their exciting bonus features. These are usually triggered by landing special bonus symbols on the reels. There's usually at least one bonus symbol per slot - some have just one, while Mobiles can have several.
Top Rainbow Riches Slots
Rainbow Riches slots are designed to be fun and entertaining. To make these slots enjoyable, they have bonus rounds such as free spins and mini-games such as pick-me rounds. Each one has a different line-up of features to discover. Here's a look at some of the many slots in the series and what features to offer.
Rainbow Riches (Classic)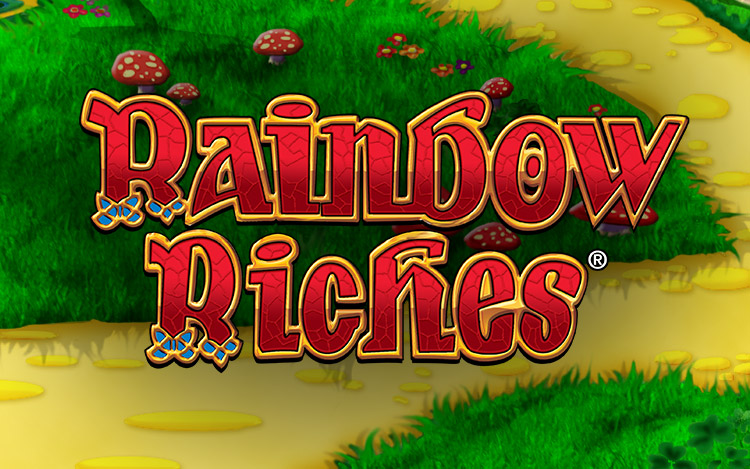 The first instalment in the series, the original Rainbow Riches slot has twenty paylines and three bonus features: Road to Riches (mini-game played like a board game, Wishing Well (pick-me game) and Pots of Gold (earn a multiple of your current stake). All of these offer you the chance to win some decent prizes and appear in Mobile Rainbow Riches slots.
Rainbow Riches Midnight Magic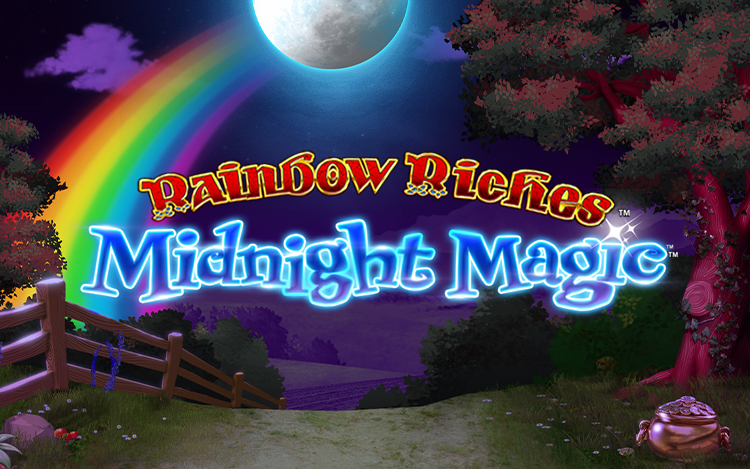 The latest addition to the hugely popular game franchise takes you on a midnight stroll along Emerald Isle with bonus prize wheels, transforming symbols, and free spins. The lucky leprechaun is back with some classic features from the Rainbow Riches series, but the wrinkle here is the Super Dial Bonus feature. The feature when activated will dish out free spins and cash prizes up to 5x your stake!
Rainbow Riches Drops of Gold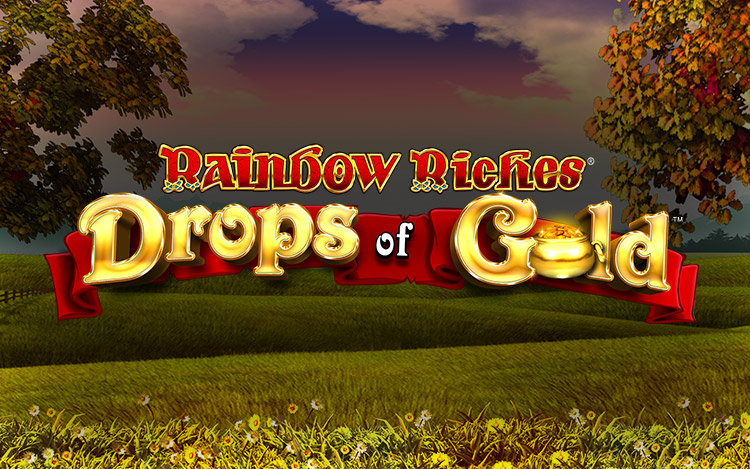 With this slot, you have plenty of chances to trigger the bonus features - Free Spins and Drops of Gold . It uses two grids: a standard one at the bottom and a rainbow-coloured one above it. Land a gold pot on the fifth reel of the top grid to trigger Drops of Gold. All silver pots drop down onto the main grid and turn into wilds. These special wilds substitute for all symbols, including the bonus ones.
Rainbow Riches Free Spins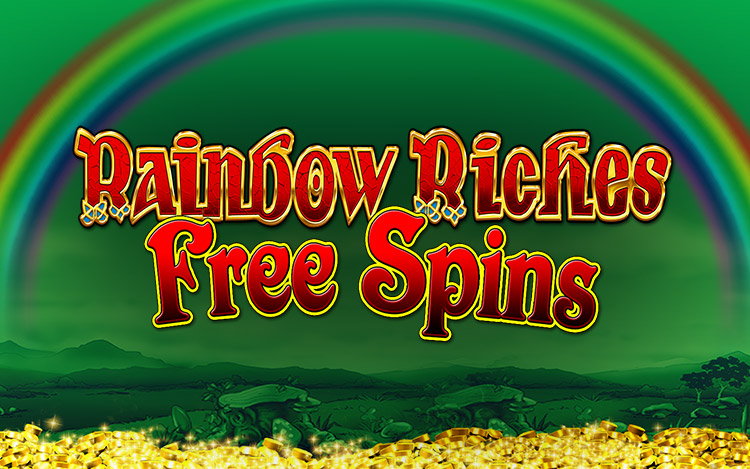 This instalment is ideal for fans of free spins, as it has a pretty good free spins round. It starts with 10, 15 or 20 spins and as you play, you have the chance to earn up to 999 spins from a single trigger.
History of Rainbow Riches Games
It all started back in 2009 when Barcrest released the very first slot in the series: Rainbow Riches. It became a big hit in many land-based casinos and online. However, it wasn't until 2016 that the next instalment, Rainbow Riches Leapin' Leprechauns, was released. This was a big hit and paved the way for many more instalments to be released. As of mid-2020 there are now 18 slots in the series.
Most of the Rainbow Riches online slots have been developed by Barcrest. The exceptions are Slingo Rainbow Riches, whose provider is Slingo Originals; and Rainbow Riches Jackpot o' Luck and Rainbow Riches Rising Wins, both of which are from Roxor Gaming. The series shows no signs of slowing down; in fact, 2020 is its biggest year yet with five new titles getting released. There are many Rainbow Riches casinos where the slots can be played.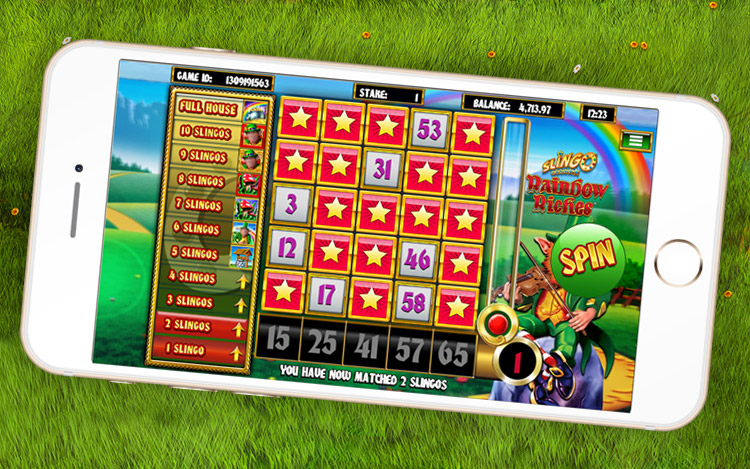 Rainbow Riches Slot Games on Mobile
All of the slots in the Rainbow Riches series are playable on mobile devices, even the original. You're able to play Rainbow Riches demo games on the go, so long as your smartphone or tablet has a reliable internet connection. The mobile versions are designed to run just as smoothly and quickly as the original desktop ones.