Anchorman Slot Game
Among game developers, Bally is an especially reliable company when it comes to unique games with a retro flavour. Having started out as a land-based casino slot, the Anchorman game is already well-loved. With its foray and conversion to online slot gaming, it is sure to attract even more fans not only of the legendary comedy film but also of slot games themselves. Perfect for both high-rollers and penny-slot players, it has something to offer for everyone. And with appearances from the film's ensemble cast, a fun, retro theme, generous rewards, and plenty of bonuses, this game like it's unlikely hero Ron Burgundy is here to stay.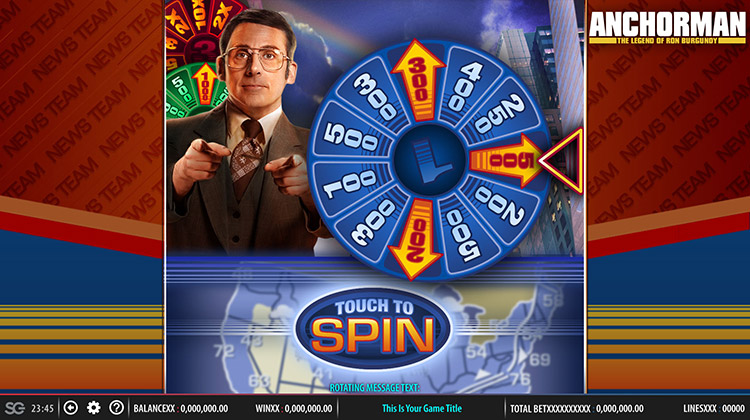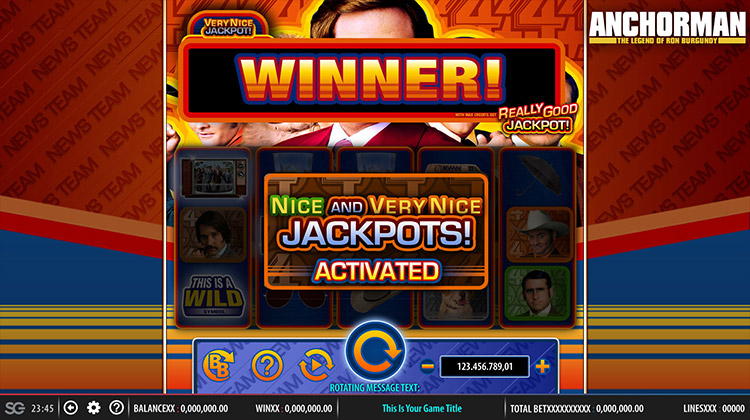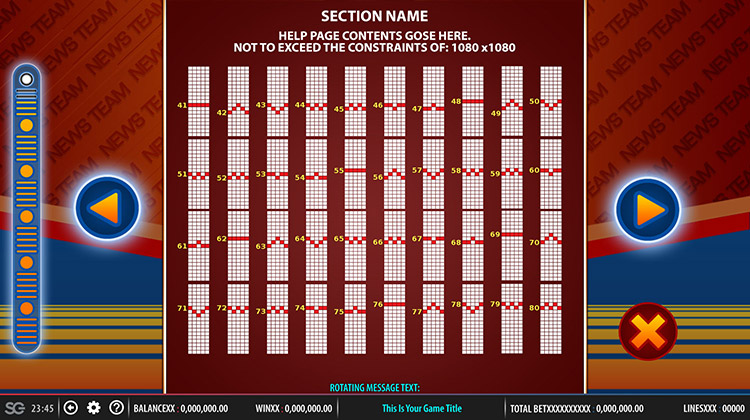 How to Play Anchorman Online
The Anchorman slot game makes a pretty solid, standard slot all the more fun because of its wacky, lovable theme. It has all that you can expect from a traditional slot, which means that its main objective is to amass winning combinations by matching symbols on the grid. These combinations will then generate prize money according to the value of the symbols on the pay table and how much you as the player have staked as your wager in the game. It's certainly a fun and addictive game, made all the more so by Ron Burgundy's larger-than-life presence and the plenty of huge bonuses it has in store.
Before you start playing, read the game's instructions first. These are provided in-game and you can quickly access them on the screen. Learn about what makes this game different from other slots and get some great tips too! After that, familiarise yourself with the symbols on the pay table and the potential payout you could get from a lucky spin.
With 25 paylines, set the number you wish to play on. The more paylines you set, the higher your bet has to be but the greater chances there are of winning as well. Next, set your bet amount from 0.75 to 150. Finally, you are ready to play. Click the Spin button at the bottom of the screen to start.
Anchorman Symbols
Anchorman slot online's symbols are showcased on a vibrant grid of 5 reels and 3 rows. With the property's many characters and elements, all the standard card symbols are replaced by themed symbols like cowboy hats, sunglasses, and the news station truck. The film's beloved ensemble cast also makes an appearance.
Anchorman Features
Mystery Stack Reels
The Anchorman online slot is positively jam-packed with bonus features. This Mystery Stack is randomly triggered to replace symbols with higher-value ones.
Baxter Wilds
The slot's wilds appear as the dog Baxter. This symbol can substitute for any other regular symbol so you have a higher chance of landing a win.
Ron's Giant Free Games
In a literally giant mini-game, you are rewarded with 10 free spins as the grid is expanded to 19 rows.
Whammy! Free Games
You could also get the opportunity to nail 12 free spins. Keep climbing the ladder in this mini-game until you reach 1000 coins.
Brick's Weather Wheels
In this mini-game, a wheel of fortune appears, where you can potentially get an increase of 2000 times your stake.
Sex Panther Pick Feature
The last mini-game is a pick me feature, where prizes could go up to 100 times your wager. Along with these wins, you also get multipliers as rewards.
Anchorman FAQ
What is the maximum bet for Anchorman?
High-rollers are in luck! The Anchorman slot machine allows a maximum bet of 150.
What is the minimum bet for Anchorman?
Penny-slot players won't have to worry either. You can bet for as low as 0.75.
Can I play Anchorman on mobile?
This slot game has now been converted for gameplay on mobile devices.
What is the RTP of Anchorman?
This game has a high RTP of 96.03%, suggesting frequent payouts.
What is the biggest potential win for Anchorman?
You can win up to 200 times your stake in the main game alone, but potentially more in the many bonus games.
Anchorman Mobile Slot
Originally a popular land-based casino slot, its conversion into a mobile slot allows you a spot in Ron Burgundy's playground right from your own smartphone or tablet. An especially well-made conversion for mobile, its screen is designed for ideal gameplay in portrait mode, mimicking its original slot machine look.