Berry Burst Slot Game
The Berry Burst slot online was developed by NetEnt and perfectly uses the cluster pay mechanic. In the Berry Burst online slot you don't just win for landing symbols in a line, but for five or more symbols next to one another. In fact, you can hit the highest wins by clearing clusters of 15 matching symbols! It's safe to say that the Berry Burst slot machine takes fruity fun to the max and is perfect for fans of other popular slot titles such as Starburst. This low-volatility slot is both great for newbies and relaxing for seasoned slot fans alike.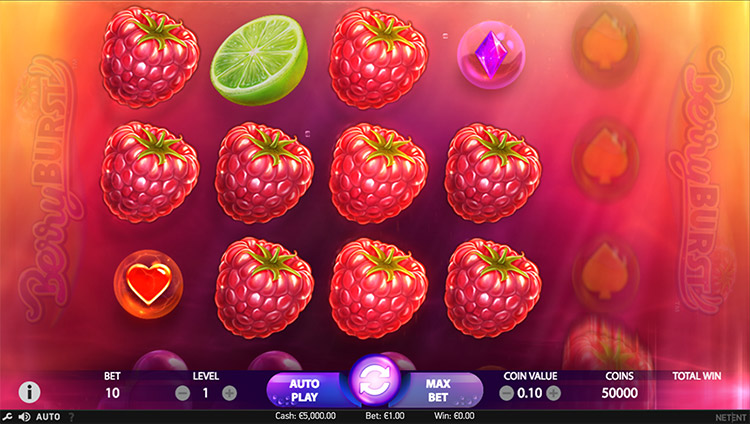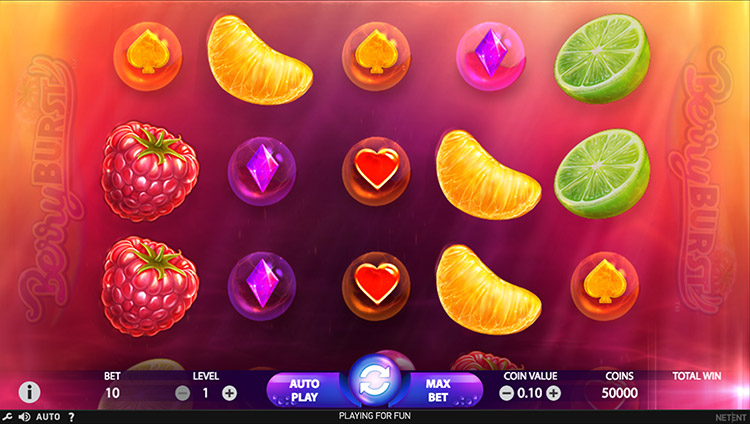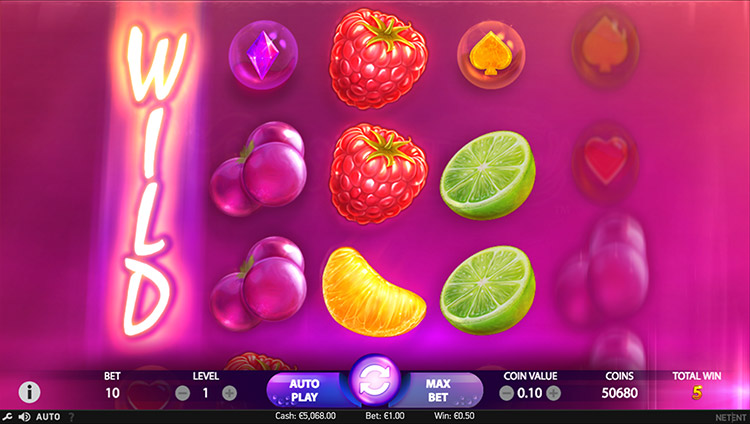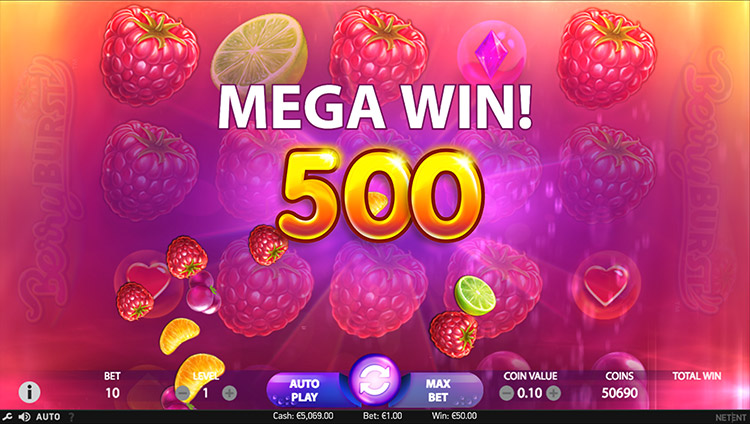 How to Play Berry Burst Online
The Berry Burst slot game has a 5-reel, 3-row set up, with no paylines! To get started playing the Berry Burst slot just follow these steps:
Choose your coin amount. The Berry Burst slot uses coins as its currency, so make sure you check the coin value your slot provider uses before you start to play. Next set the coin value you'd like to use in the Berry Burst slot using the + and - buttons.
Max Bet. If you're looking to go straight to wagering high amounts then you can click on the 'max bet' option to automatically set up the Berry Burst game with the maximum coin and bet settings.
Spin! When you're happy with your wager it's time to spin!
Autoplay. If you don't feel like playing through each spin manually and instead want to relax and watch the fun unfold you can use the 'autoplay' button to have the Berry Burst slot play through a set amount of games. You can choose to autoplay through up to 250 spins. There's also an option for you to set a loss limit to protect your hard-earned cash!
Wins. Wins are made according to the paytable. Always check the paytable before making your first spin so you know what you're looking out for and the layout of the slots paylines.
Berry Burst Symbols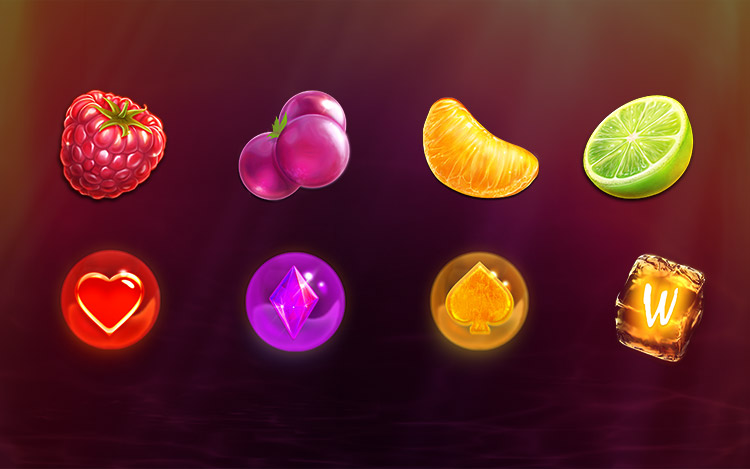 The following symbols are used in the Berry Burst slot game:
Raspberry: Awards 30-5000x your stake amount
Orange: Awards 20-3000x your stake amount
Grape: Awards 10-2500x your stake amount
Lime: Awards 10-2500x your stake amount
Hearts: Awards 5-1000x your stake amount
Spades: Awards 5-1000x your stake amount
Diamond: Awards 5-1000x your stake amount
Berry Burst Features
Cluster Pays
Berry Burst uses a cluster pays mechanic instead of a payline layout. In this mechanic you achieve winning combinations by landing clusters of 5-15 symbols in any position on the reels. The more symbols in a cluster the better the prize!
Wild Symbol
The wild symbol is a block of ice and can substitute for any other symbol in the game helping you to increase your chances of landing a larger cluster.
Wild Respins
When a wild lands on your reels it will expand and fill the reel greatly increasing your chances of a win. The wild will then stick to your reel and the reels will respin. As long as at least one more wild is landed the reels will expand and spin again. This will happen until no more wilds are landed.
Berry Burst FAQ
What is the return to player of the Berry Burst slot?
The Berry Burst game has a theoretical return to player (RTP) of 96.56%
Can you win free spins on Berry Burst?
No, the Berry Burst slot doesn't have free spins, but with it's cluster win system and epic wild respins feature you won't feel as though you're missing out!
Is Berry Burst the same as Berry Burst Max?
No, these are two different slot titles! Berry Burst is a low volatility slot while Berry Burst Max has a very high volatility rating.
What is the jackpot of the Berry Burst slot?
The maximum payout you can win on Berry Burst is achieved by landing a cluster of 15 Raspberries. If you do this then you'll win the game's maximum payout of 5000x your stake amount!
Berry Burst Mobile Slot
Like many of NetEnt's other titles, Berry Burst has been designed to be compatible with all mobile devices and tablets. This is because it uses HTML5 software which allows it to be played directly from any mobile or desktop browser.