Jokers Jewels Slot Game
Joker's Jewels Slot Online appears to be much like any other land-based slot machine you can find on the Vegas strip. There are 5 reels, each with three rows, and a paytable above the reels displaying the values for the winning rewards of each symbol. To weave into the lengthy tradition of slot games, the background has been given a rich jewel-toned purple and blue.
The betting range from 0.05 to 5. The RTP is above market rate at 96.5 a as well as a maximum win of 5,000 factors for this game. Joker's Jewels contains eight symbols, each of which has been meticulously designed. Three gleaming jewels, a mystery pearl, a gleaming diamond, and a gleaming ruby, are the lowest paying symbols. A pair of pom-pom-embroidered booties, a collection of three juggling clubs in red, orange, and blue, and a magnificent lute for the jester to serenade the court are the next three symbols.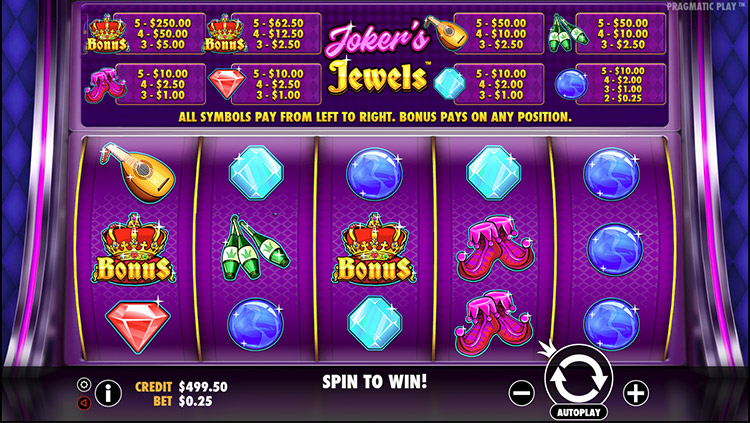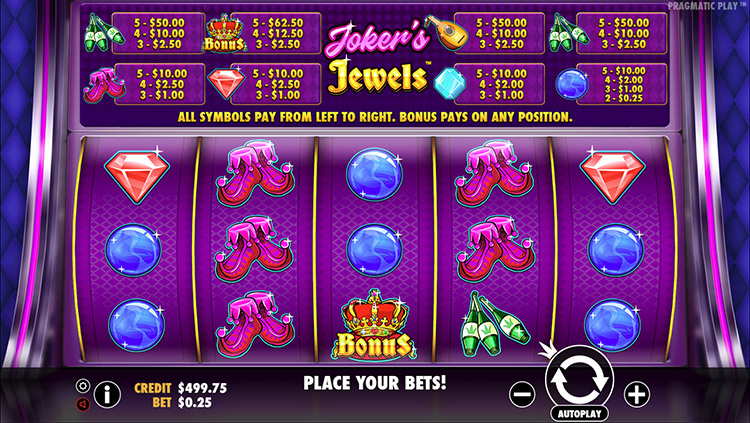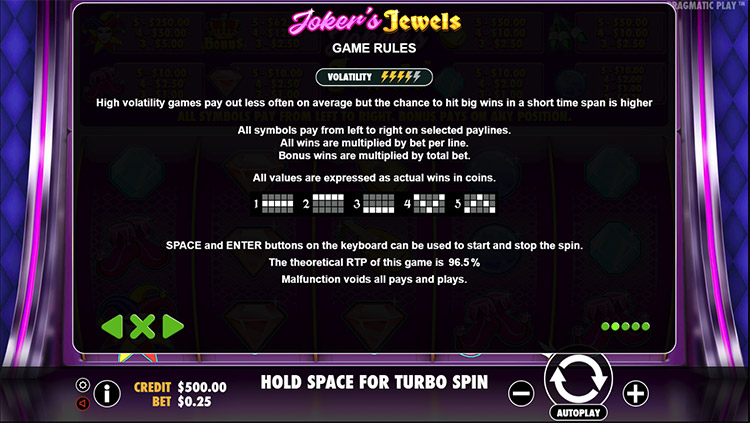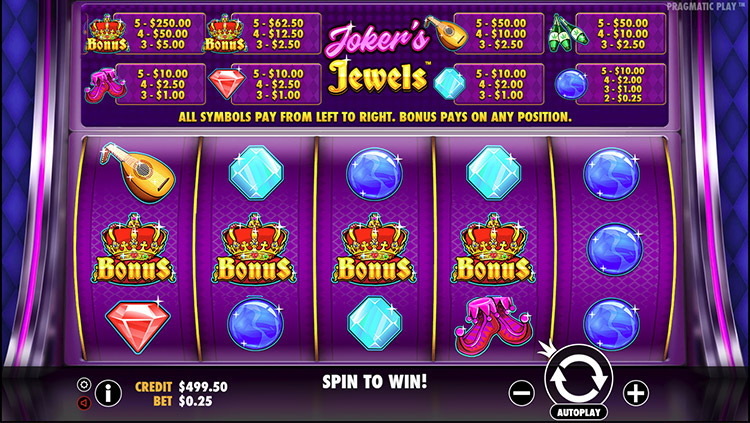 How to Play Jokers Jewels Online
There is not much to explain about gameplay. Jokers Jewels slot game is as straightforward an online slot machine can be. Here are some reminders:
Open the hamburger menu to adjust the settings suited for you. You can even make changes on the bet amount from there.
There is an I symbol that works as a help icon that shows a paytable. The paytable can also be seen above the reels.
The credit amount and the bet is found next to these buttons. The amounts are displayed for the player to keep track easily.
The spin icon also has a plus and minus sign to easily change speed. There are six different spin options available, as well as quick spin and turbo spin options to make the reels spin faster. This makes sense since the game tried to make everything easy.
The game is filled with symbols that relate to the theme and when you start landing 2 or more combinations of symbols to start winning.
If you raise the bet to its maximum value, you will discover that the paytable lists payouts of up to 5,000, which is a 5,000x multiple of the line bet.
Jokers Jewels Symbols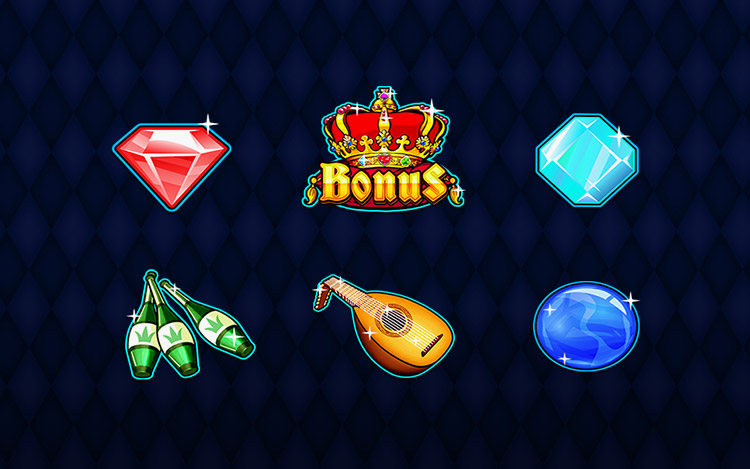 The dark blue and pale blue gemstones are the lowest paying symbols, paying 4, 8, or 40 times your bet if you land 3, 4, or 5 on a line. The ruby gemstone and the jester's shoes come next, paying 4, 10, or 40 times your investment.
The juggling clubs and lute, which will pay you 10, 40, or 200 times your bet if you land 3, 4, or 5 in a row, are more rewarding. The jester is far and away the most rewarding. If you get 3, 4, or 5 of these on a payline, you will win 20, 200, or 1,000 times your stake, respectively.
Jokers Jewels Features
Scatters
The game only has one feature, which is triggered by a Scatter symbol. Scatter symbols are known for their ability to appear anywhere in view and then trigger payouts and features based solely on the quantity of symbols of that type. The emblems in Joker's Jewels are representations of a King's Crown with the Bonus logo underneath them. To get the bonus game and a monetary payout, these must appear at least three times. These Scatters will pay out 10x to 50x the amount wagered on the spin.
Jokers Jewels FAQ
What is the maximum bet for Jokers Jewels?
The maximum bet for Jokers Jewel is 5.
What is the minimum bet for Jokers Jewels?
The minimum bet for Jokers Jewel is 0.05
Can I play Jokers Jewels on mobile?
Yes, you can play Jokers Jewels on almost any mobile device.
What is the RTP of Jokers Jewels?
The RTP for Jokers Jewels is 96.5 percent which is above the industry average.
What is the biggest potential win for Jokers Jewels?
The maximum amount you can win in Jokers Jewels is 5,000.
Jokers Jewels Mobile Slot
There are many new slots out there but there are instances that you want to keep things simple and that is where Jokers Jewels is great at. The graphics are not the same level as many modern slots but the classic look of Jokers Jewels matches the gameplay. It is designed like a land-based slot machine. It has transitioned well to the online version. It is available on almost all iOS and Android devices. We recommend that you use the full screen mode for you to enjoy this game better. It is great for new players and even better for older players. It is highly recommended.