King Kong Cash Slot Game
The King Kong Cash slot online was developed by popular company Blueprint Gaming. The King Kong Cash online slot is a traditional 5 reel, 20 payline slot, but the 9 bonus features included in the slot game are anything but normal! You can play the King Kong Cash slot machine for pennies, but can win an incredible jackpot of up to 1,000 times your original stake amount.
The Kong-sized bonuses come in 2 different types. There's 4 that are triggered at random, and the main 5 are activated by getting lucky and landing symbols like scatters. Either way, the King Kong slot game doesn't monkey around with the fun, in fact you could say when it comes to exciting game play the King Kong slot goes bananas!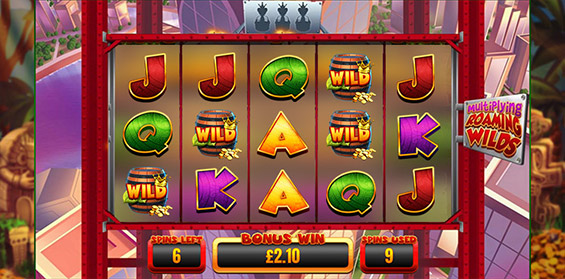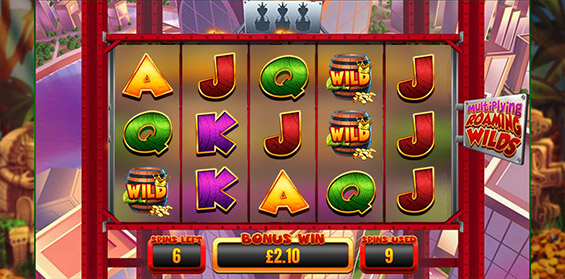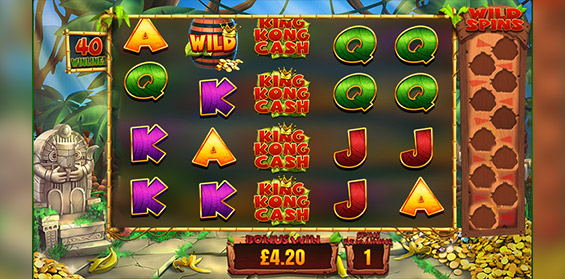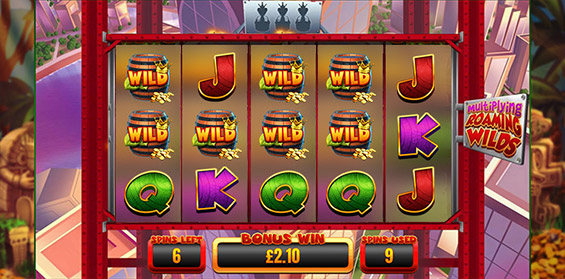 How to Play King Kong Cash Online
To get started playing the King Kong Cash game follow these steps:
Press the button labelled 'total bet' and increase or decrease the amount of your total bet until you're happy. Wagering amounts start in the pennies and go all the way up into the hundreds of pounds.
When you're happy with your wager press 'spin' to make your first spin of the King Kong Cash slot machine.
If you don't want to play through spins manually then you can use the 'autoplay' button to have the slot machine play games for you. The autoplay feature can be stopped by pressing the 'stop autoplay' button.
The reels spin and stop at random. Combinations are read from left to right and getting between 2-5 matching symbols on a win line is counted as a win. When this happens the winning combination will be highlighted and you will be awarded the prize that correlates to the information stated on the pay table.
3 or more bonus scatter symbols in any reel position will award the King Kong Bonus which is based on a reel spin and can trigger five different bonus rounds (more on those later).
King Kong Cash Symbols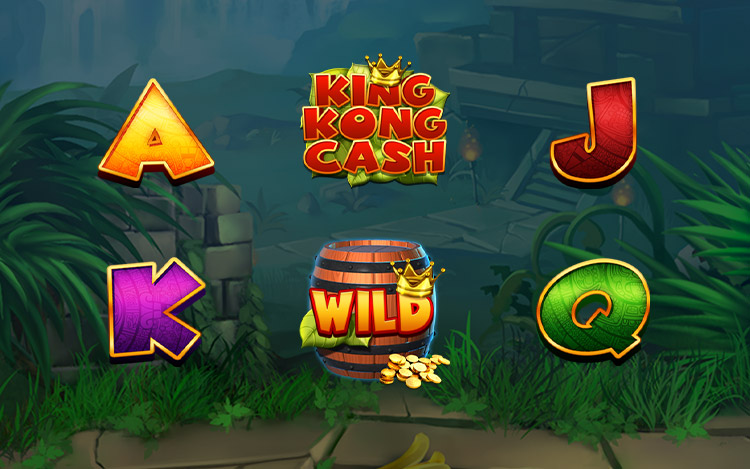 The symbols used in King Kong Cash are as follows:
Bonus Symbol: The bonus symbol is none other than King Kong himself and landing three of these symbols will trigger the King Kong Bonus
Wild: The wild symbol looks like a wooden barrel and can replace all other symbols apart from the Bonus Symbol. It also awards 2, 40, 100, or 500x your stake amount.
King Kong Cash: The King Kong Cash symbol awards 2, 40, 100, or 500x your stake amount.
Rhino and Tiger: Awards 20, 80, or 300x your stake amount.
Parrot and Crocodile: Awards 10, 60, or 200x your stake amount.
A and K: Awards 8, 40, or 100x your stake amount.
Q and J: Awards 4, 10, or 50x your stake amount.
King Kong Cash Features
Sleeping Kong
King Kong is present in the game, but he's had too many bananas and is asleep! However, at any point King Kong may awaken and reward you with one of four bonuses:
Banana Cannon Wilds: King Kong will fire bananas from a cannon. The bananas will land on the reels and turn random symbols into wilds.
Golden Barrer Super Spin: Kong is a little cranky when he wakes and throws a barrel on to the reels! The barrel will explode and add more barrels to the reels and so on. When the booms have stopped the barrels which have appeared will change into the same symbol awarding a tidy payout.
King Kong Spin Streak: When you've won a spin the freshly awoken Kong whacks the reels with a giant mallet. The winning symbols you achieve will be locked in place and the reels will spin again. This will happen for as long as a new matching symbol is landed on the reels.
Bonus Boost Feature: King Kong will add more barrel scatter symbols to the reels which can help you reach more bonus features.
Bonus Rounds
The main bonus rounds are triggered by landing three of the bonus symbols in any position on the reels in a single spin. A wheel will appear and by spinning this you'll be given one of five bonus rounds:
Barrel Blast: A selection of barrels will appear on screen, players simply need to pick 3 matching barrels to be awarded a multiplier. If a player finds 3 golden monkeys instead they will advance to the Big Money Bonus feature.
King Kong Trail: This is inspired by the classic video game Donkey Kong. Players advance through the mini game collecting prizes. If they land the Golden Monkey they'll advance to the Big Money Bonus feature. If a player lands on a bomb however the bonus round will end.
Empire Free Spins: A new set of reels will appear and you'll move to the Empire State Building! The aim of this bonus game is to move through the free spin levels winning bigger rewards and maybe even collect a Golden Monkey symbol or two!
Golden Kong Free Spins: A player will be presented with a fresh 5 reel slot with 40 paylines. Wilds can be collected on each free spin. When you've played through the free spins you'll be given wild super spins where all the wilds you gain become active. Once you've played each spin you get to pick a barrel. If you reveal a Golden Monkey you'll get to spin again, reveal a bomb, however, and the feature ends.
Big Monkey Bonus
The Big Monkey Bonus is accessed by collecting Golden Monkeys and gives you a chance to win 1,000x your stake amount!
King Kong Cash FAQ
What's the jackpot of King Kong Cash?
King Kong Cash has a maximum payout of 1,000x your stake amount.
How many bonuses does King Kong Cash have?
King Kong Cash actually has 10 bonuses. There's 4 random bonuses', 5 wheel-spin bonuses, and the Big Monkey Bonus!
What do Golden Monkeys do?
Golden Monkeys are collected in the main bonus rounds and provide you with access to the Big Monkey Bonus for a chance at the 1,000x jackpot.
What is the RTP of King Kong Cash?
King Kong Cash has a theoretical return to player of 95.79%.
King Kong Cash Mobile Slot
As a HTMl5 game King Kong Cash can be played directly from any browser meaning you can play King Kong Cash on any device. This means that you can hang out with King Kong and play King Kong Cash whenever and wherever you like, so go bananas!