Monopoly 250k Slot Game
Let's be honest, there's lots of different Monopoly themed slot machines out there, so developers need to make sure their title stands out from the crowd. Enter the Monopoly 250k slot online! With all the much-loved graphics and the usual high quality the Monopoly 250k online slot truly ups the ante with a whopping jackpot prize!
The Monopoly 250k slot machine has 5x40 reels and an impressive 40 active lines. Best of all, while the Monopoly 250k slot games 250k jackpot is great, players can also win the potential top prize per spin if luck shines on them. There are also three in-game bonuses to max out on the fun as well!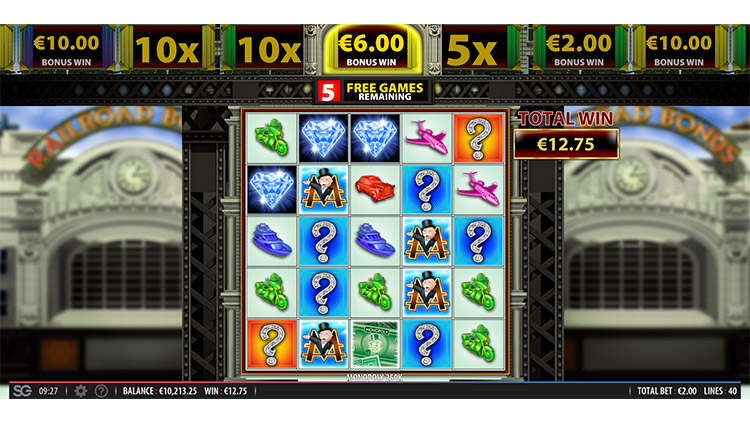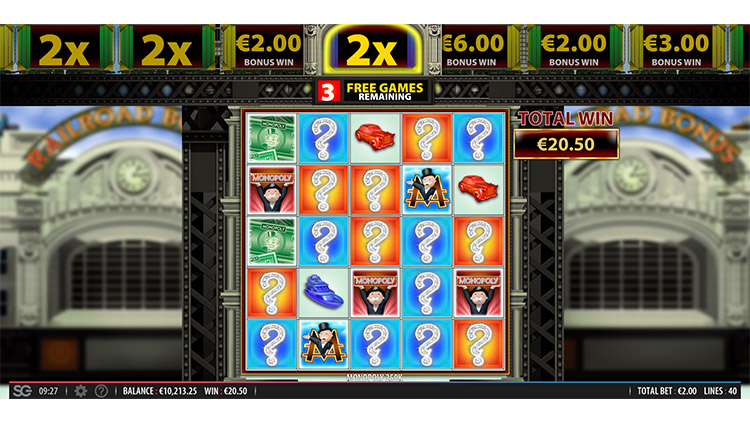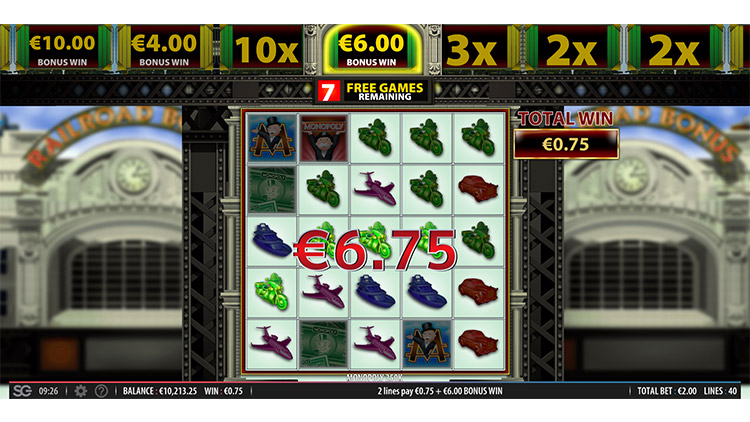 How to Play Monopoly 250k Online
To start playing the Monopoly 250k slot you first need to set your wager amount using the + and - buttons. The 40 paylines in Monopoly 250k are fixed, so you don't need to worry about picking the paylines or working out your stake per payline. This huge range in wagering requirements is a plus because it welcomes new players and challenges slot fans.
In terms of playing the Monopoly 250k slot machines, things get even more straightforward as controls have been pared down to the very basics so you literally just have to hit spin and tweak your wager amounts as and when you choose to. Better still if you don't feel like putting in the effort to click a single button you can use the Autoplay function instead! This means that playing the Monopoly 250k slot game can be both an exciting and simple game to play.
Monopoly 250k Symbols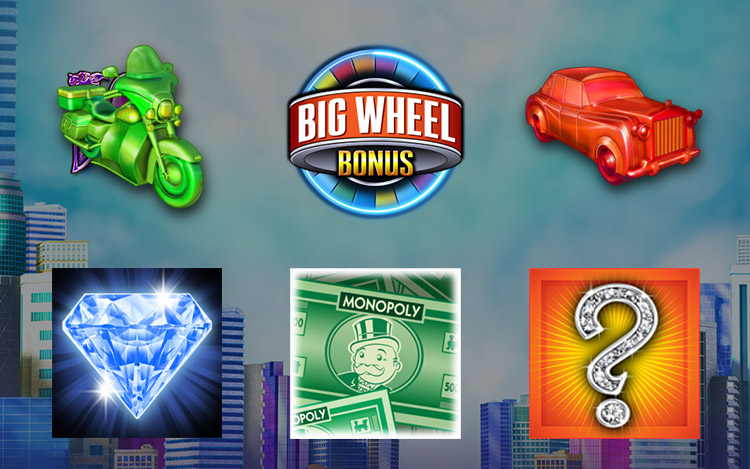 Monopoly 250k uses the following symbols:
Big Wheel Bonus: The Big Wheel Bonus is Monopoly 250K's scatter symbol and appears on reels 1, 13, and 25
Wild Symbols: The wild symbols are able to substitute for all symbols apart from the Big Wheel Bonus symbol and only appear within the base game and the bonus game; Railroad Bonus.
Chance and Mystery Symbols: The chance and mystery symbols only appear in the main gain and the Railroad Bonus. When the spin they appear on concludes their symbols will be replaced with other special symbols as outlined on the paytable.
Other Symbols: Other symbols that appear in the Bonus Rounds include the +2 symbol, lamp, and switch.
Monopoly 250k Features

Super Jackpot
The Super Jackpot may be triggered during base game spins where no line win is achieved! More information about this is found in the paytable.
Community Chest Bonus
The Community Chest bonus is triggered in the base game. Players are presented with 3 cards which they have to pick between to receive a line win multiplier. The multiplier they receive will be one of the following amounts: 2x, 3x, 5, or 10x
Big Wheel Bonus
The Big Wheel Bonus is triggered by landing the Big Wheel bonus on reels 1, 13, and 25. Players recieve one spin in which they may recieve the following:
Cash Prizes
Go to Jail Bonus
Railroad Bonus
Free Parking Bonus
Electric Company Bonus
Free Parking Bonus
During the Free Parking Bonus players pick between 23 cars. Players pick 5 of the cars and will be awarded cash prizes (ranging from between 1-7x stake amount) or a player might real a Jackpot symbol and will be awarded 10x for 1 symbol, 20x for 2, 40x, for 3, 100x for four, or a whopping 400x for all 5 jackpot symbols.
Railroad Bonus
The Railroad bonus automatically awards 8 free games. Each spin can award cash prizes of between 1-5x total bet as well as line multipliers of between 2-10x.
Electric Company Bonus
The Electric Company Bonus awards 10 free games and adds 'lamp' symbols to the reels. Landing a 'switch' symbol during these spins will turn on the lamps you've scored awarding you between 5-1000x your stake amount per bet line. '+2' symbols award additional free games.
Go to Jail Bonus
The Go to Jail Bonus round is played over three dice rolls. The aim of the game is to roll doubles to get out of jail, doing so will award a cash prize.
Monopoly 250k FAQ
What is the maximum theoretical RTP of Monopoly 250k?
The maximum theoretical return to player (RTP) of Monopoly 250k is 95.39%
Does Monopoly 250k have an autoplay feature?
Yes, Monopoly 250k has an autoplay feature that allows players to automate the spins and just watch it unfold.
Are there scatter symbols in Monopoly 250k?
Yes, Monopoly 250k uses the Big Wheel Bonus symbol as the games' scatter symbol.
What is the purpose of the Big Wheel Bonus Round?
The Big Wheel Bonus Round is a way to earn some extra cash prizes or access one of the four different bonus rounds.
Monopoly 250k Mobile Slot
The Monopoly 250k slot game has been designed with desktop and mobile compatibility in mind. Because of this, the game is able to be played in both portrait and landscape orientation meaning you can play the game in the way that best suits the screen size of your device.