Starburst Slot Game
Starburst is a low-volatility slot game from popular developers NetEnt. Starburst is a smash-hit title which features a night sky theme which the bright dazzling gems standout perfectly against. The Starburst slot online has 5reels and 10 bet lines. The Starburst online slot is a game which rewards its players with respins which are achieved by landing Starburst wilds. This means that if you're lucky you can get a lot of additional excitement out of a single spin.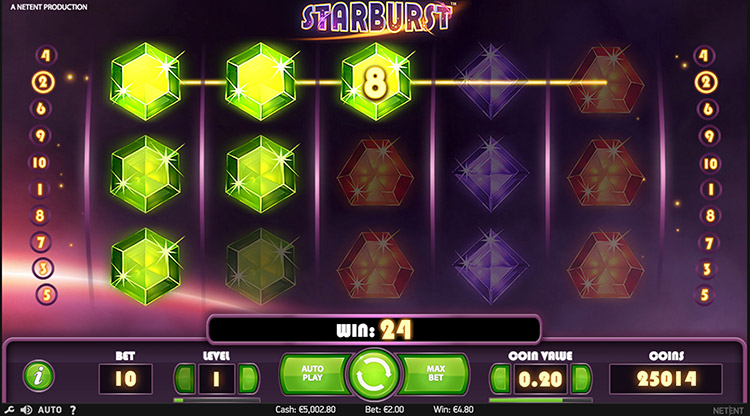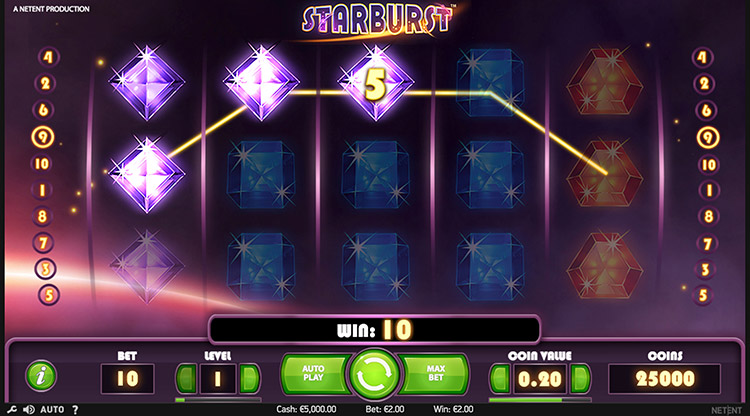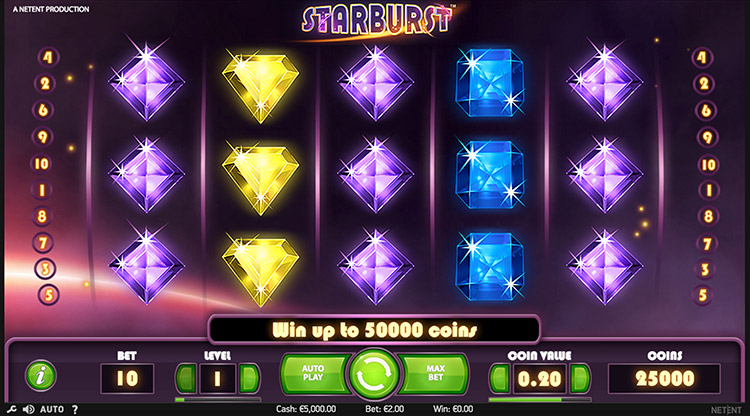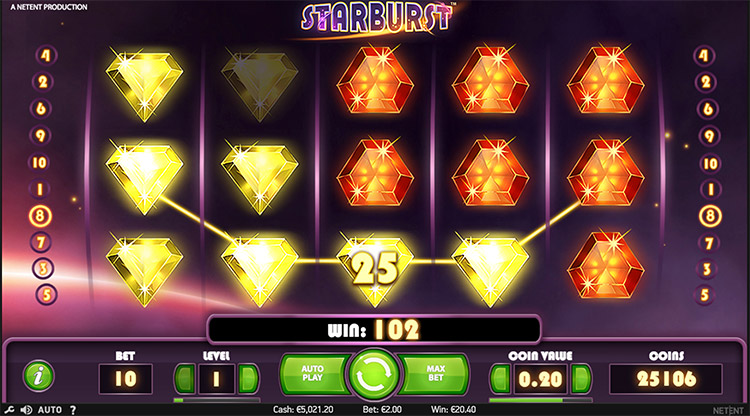 How to Play Starburst Online
The Starburst slot machine has been cleverly designed to be user friendly to both new and returning players. To get started playing the Starburst slot game you first need to set the game level. Changing the game level affects the value of the coins which allows you greater precision when setting your bet.
Next you need to decide on the coin value. This is done by using the buttons at the bottom of the screen. Setting both the level and coin value to the highest setting, for example, will allow you to play at the max betting amount. If you're not in the mood to fiddle with the Starburst settings and want to cut right to the chase and press the 'max bet' button to have the Starburst slot automatically set your game to the maximum bet amount.
When you've set the level and coin value it's time to spin. You can either choose to take each spin as it comes by pressing the green 'spin' button. If you want to sit back and watch the spins unfold you can choose the autoplay feature instead. When the autoplay mode is active the game will play automatically until you stop the feature by pressing the autoplay button once more.
Starburst Symbols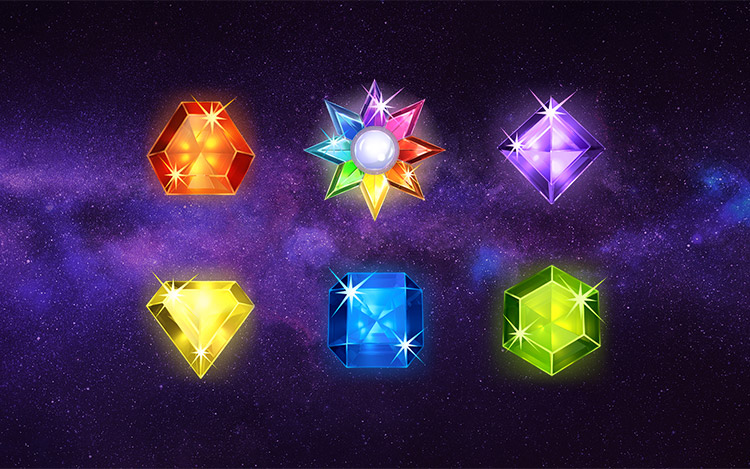 The Starburst slot game uses a variety of symbols with the majority being gorgeously sparkling gems:
Purple Amethyst and Blue Sapphire: Pays 5-25x line wager
Orange Citrine: Pays 7-40x line wager
Green Emerald: Pays 8-50x line wager
Yellow Topaz: Pays 10-60x line wager
7: Pays 25-120x line wager
Bar: Pays 50-250x line wager
Wilds: Starburst wilds look like a star-shaped rainbow and are able to replace all symbols. This appears on reels 2, 3, and 3, and can expand over the reels triggering up to 3 re-spins and is the closest thing that Starburst has to a traditional jackpot or bonus round.
Starburst Features

Starburst Wilds
Starburst Wild symbols will only appear on reels 2-4. The Starburst wild feature is triggered when one or more wild symbols land on the reels. When the wild feature activates the wild symbol will expand and cover the entire reel and remain fixed for one re-spin.
If another wild appears in the respin then the wild will expand again and another respin will happen. This will continue until no more wilds are landed/can be landed.
Autoplay Options
The Starburst slot has advanced autoplay options to choose from when starting the autoplay feature such as:
On Any Single Win: stops autoplay when you hit a winning round
If Single Win Exceeds: stops autoplay when the win amount equals or exceeds the preset amount
If Cash Increases By: stops autoplay when your cash amount increases by preset amount
If Cash Decreases By: stops autoplay when your cash amount decreases to present amount
Starburst FAQ
What is the RTP of Starburst?
The Starburst slot game has a theoretical return to player of 96.1%.
Are there any other Starburst games?
While currently there are no other Starburst games, NetEnt has announced they're intentions to create new titles inspired by the original Starburst title so keep your eyes peeled!
Does Starburst have scatter symbols?
The Starburst game doesn't use scatter symbols as it focuses play on its innovative expanding wilds and respin mechanic.
Can the Starburst Wilds appear on any reel?
No, the Starburst Wilds are only found on the center reels which are reels 2, 3, and 4 and can expand to all spaces on the reel which they appear on.
Starburst Mobile Slot
Starburst is available to play on both mobile and desktop devices with little difference in quality and performance meaning you can play Starburst wherever and whenever you want to. The graphics remain high-quality across various screen sizes and there's no need for any additional updates or downloads.