Twin Spin Slot Game
The Twin Spin slot online is perfect for players looking for a thrilling gaming experience with all the much-loved imagery of classic Las Vegas slot machines. Unlike some of the silly, quirky gimmicks of other titles the Twin Spin online slot feels grown up, and with the ingenious twin reels the prizes you can win feel adult-sized too!
On the Twin Spin slot machine each spin you make is made on identical adjacent reels which are linked. During your spin the reels may expand and become triple, quadruple, or even spread out to all 5 reels. This means that each time you play the Twin Spin slot game there's 243 ways to win!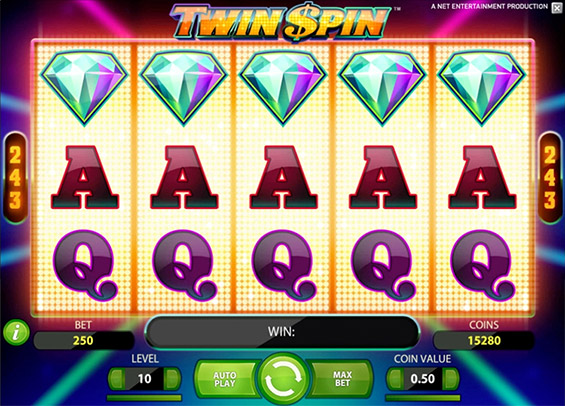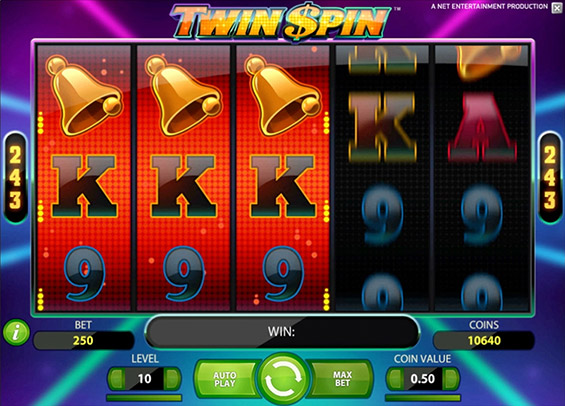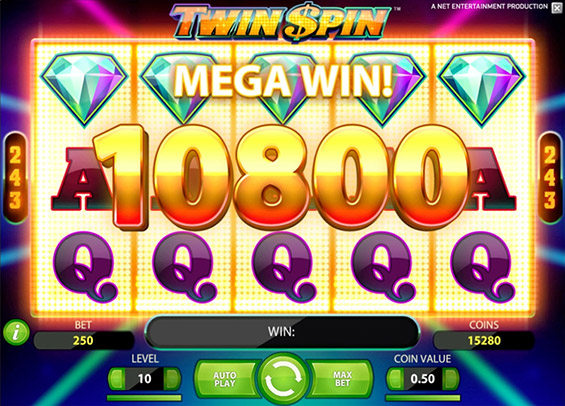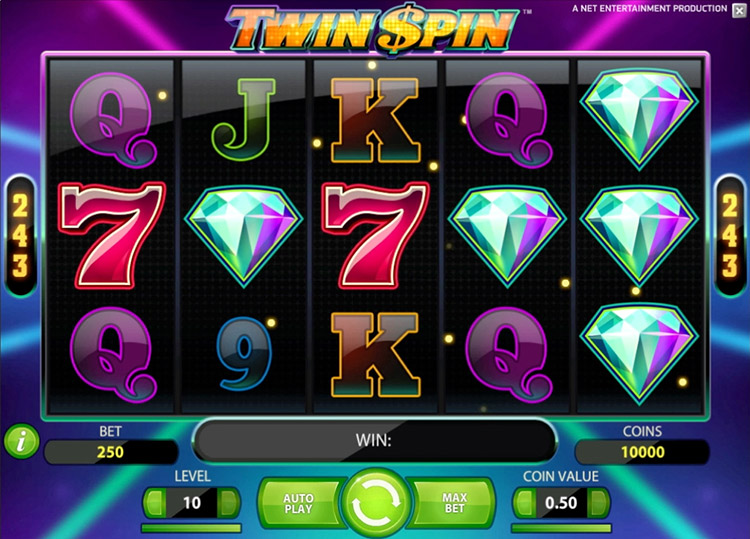 How to Play Twin Spin Online
Getting started with the Twin Spin game takes a few clicks, so just follow the steps below:
Set your bet level using the level selector
Next set the coin value using the coin value selector. You'll also be able to see the amount of coins you have able to wager too.
If you're looking to wager the maximum without fuss you can press 'max bet' to instantly start a round with the maximum wagering amounts.
If you don't want to play spins manually you can use the 'autoplay' feature (more on this later)
Now it's time to spin!
All payouts are made according to the paytable.
Here's a handy run down of the game setting options you may need to use as you play:
Spanner: The spanner icon accesses the Twin Spin slot game panel.
Quick Spin: Turns on the quick spin feature.
Intro Screen: Turns the introduction screen off and on.
Spacebar Spins: Activates or deactivates the space bar as the spin button.
Game History: Check out your previous wins and losses using the game history button.
Twin Spin Symbols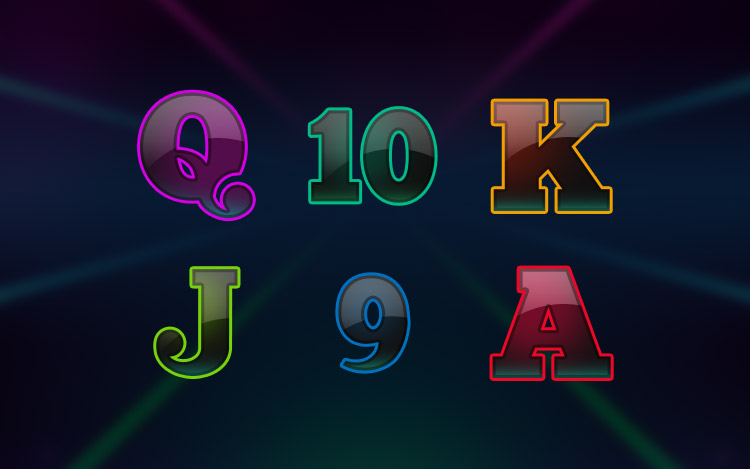 The Twin Spin Slot Machine uses the following symbols:
Wild: Is able to substitute for all symbols
Diamond: Awards 50, 250, and 1000x your stake amount
7: Awards 30, 150, and 500x your stake amount
BAR: Awards 15, 100, and 400x your stake amount
Bell: Awards 10, 75, and 250x your stake amount
Cherries: Awards 10, 75, and 250x your stake amount
A, K, Q: Awards 4, 15, and 40x your stake amount
J, 10, 9: Awards 3, 10, and 25x your stake amount
Twin Spin Slot Online Features
Wild Symbols
Wild symbols will only appear on reels 2-5. They look like the word 'wild' and are able to substitute for all other symbols helping you to earn better prizes.
Twin Reel Feature
The Twin Reel feature is unique to NetEnt and works as follows:
Each spin on the Twin Spin reels has identical twin reels that are adjacent to one another and linked together. During your spin these reels may expand becoming triple, quadruple, or quintuple reels.
The twin reels may appear on any of the 5 reels.
The number linked reels is random and will change with each spin.
Advanced Autoplay Options
The Twin Spin game uses a customizable autoplay feature. To access this the player first clicks 'autoplay' and then click 'advanced settings'. The following options are available to customize and can be used to stop autoplay when certain conditions are met.
On Any Win: Will stop autoplay as soon as you get a winning spin
If a Single Win Exceeds: Stops autoplay when you win an amount which is equal to or exceeds specified amount.
If Cash Increases By: Will stop autoplay if your cash reaches the specified amount.
If Cash Decreases By: Will stop autoplay if your cash drops to the specified amount.
Your preset options can be reset at any time by pressing the 'reset' button.
Twin Spin FAQ
What is the Twin Reel Mechanic?
The Twin Reel mechanic is unique to Twin Spin and causes any reel on the machine to become linked to an identical reel or reels (depending on your luck) with each spin. The number and reel chosen changes with each spin.
Are there any symbols the Wild isn't able to replace?
Nope! Unlike other games the wild symbol is able to replace all other symbols on the machine.
What is the return to player of Twin Spin?
The theoretical return to player (RTP) of Twin Spin sits at 96.6%
What are the symbols used in Twin Spin?
Twin Spin uses classic Las Vegas casino-style symbols such as the BAR symbol, 7's, Diamonds, fruit, and playing cards.
Twin Spin Mobile Slot
Twin Spin is a modern HTML5 slot which means it can be played immediately and directly from any browser you choose without needing to make any updates or additional installations. This means that Twin Spin is compatible across all devices both mobile and desktop-based.