Monopoly is one of, if not the, best-loved board game in the world. So it's only natural that software developers took the opportunity to merge it into a slots format, hence the Monopoly 250k slot. Like the board game, it is exciting with some twists and a lot of bonus features to earn big money. Because, that's the point of the game right? So keep on reading this Monopoly 250k slot review to see what those features are. 
Monopoly 250k Slot Technical Features
There are plenty of things to love in the Monopoly 250k slot uk. It has a five by five grid and 40 paylines with a 95.49% RTP and medium volatility. You'll love the Monopoly 250k casino slot because of all the opportunities it gives you to win big and small cash prizes, plus its highly innovative gameplay.
All the elements of the board game are included in the game. In the Monopoly 250k online slot, the popular symbols and cards are laid out across the reels. The symbols include the most popular playing pieces, as well as the Chance and Community Chest symbols. It's bursting with innovative features which we'll discuss later on in this Monopoly 250k slot machine review. 
Monopoly 250k Bonus Features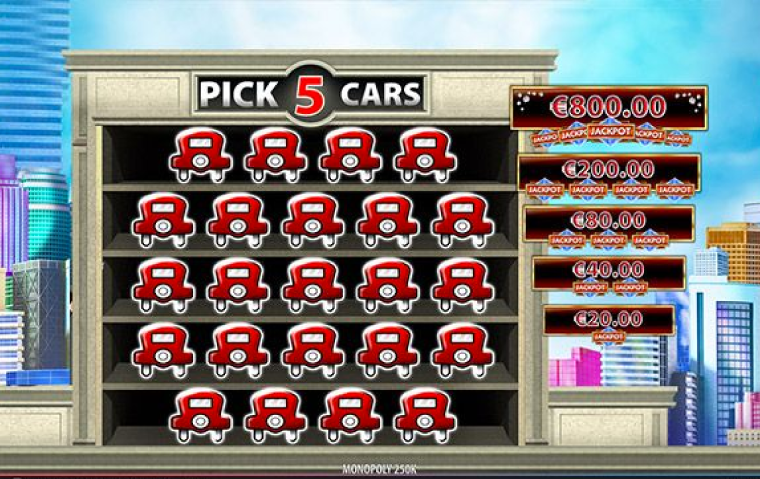 Apparently, you can never have too many Monopoly 250k slot bonus features.
Chance and Mystery symbols
Most spins of the reels in Monopoly 250k mobile slot throw up a number of Chance and Mystery question mark symbols and reveal the other symbols they're hiding once the reels finish spinning. These could lead to some prize payouts, depending on the symbols and their positions on the reels.
Community Chest Bonus
Completely random, the Community Chest Bonus can happen anytime, offering you a selection of Multipliers to apply to your most recent win. Pick one of three options and you get a Multiplier that will boost your prize pot accordingly.
Big Wheel Bonus
Spin the wheel which great bonus award you'll receive in the Monopoly 250k online slot and watch your balance grow accordingly. Each window on the playing area counts as its own separate reel, so rather than five reels of five symbols, the game's developers refer to it as a 25-reel game. The Bonus Big Wheel symbol can only appear on the 1st, 13th, and 25h reels, but when it happens in all three places during the same spin, the Big Wheel Bonus will start and you are given one spin. 
Free Parking Bonus
If you land on the Free Parking Bonus, you'll be shown a garage full of cars. Pick five of them and each car will reveal a jackpot symbol or a cash sum, with Multipliers ranging from 1x to 7x your line stakes amount. If you get five jackpot symbols, you'll get up to 400x your line bet.
Railroad Bonus
When you land on the Railroad Bonus during the Big Wheel Bonus, you're automatically awarded eight free spins. During the Free Spins round, a train slowly chugs across the top of the playing area. For each free spin, the cash award or Multiplier displayed on the train will be awarded to you and added to your prize pot. 
Electric Company Bonus
If you land on the Electric Company Bonus during your Big Wheel Bonus spin, you'll be given ten Free Spins. If you land a switch symbol on the 25th reel, this will trigger a cash payout. All the lamp symbols across the reels will pay out, with prizes ranging from 50x to 1,000x your line bet. 
Go to Jail Bonus
Going to jail is usually a bad thing, but for the Go to Jail Bonus of Monopoly 250k, you get to roll a dice and see if you can win prizes. Roll a double for the biggest cash awards, which also ends this bonus feature.
How To Play Monopoly 250k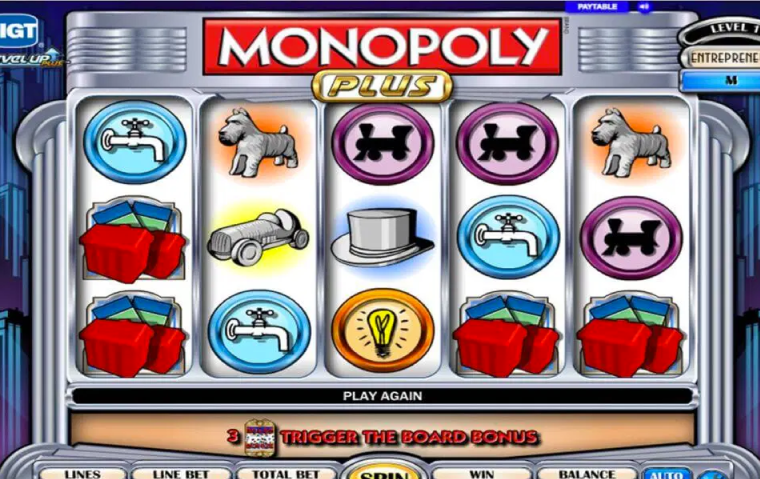 You don't have to have played the board game to play the Monopoly 250k slot. There are 40 fixed paylines so you don't need to worry about how many you should include in each spin. The only decision you have to make is how much are you going to bet on each spin. The options range from 0.40 per spin up to a maximum of 100.00. Then all that's left is for you to hit the SPIN button.
To win in a Monopoly 250k slot machine, winning combinations may contain only one symbol from each adjacent reel, beginning with the leftmost reel. Like symbols, or their substitute, on a single reel are not part of the same winning combination, but may create separate winning combinations. All line pays are multiplied by the bet multiplier and must occur on adjacent reels beginning with the leftmost reel.  
Monopoly 250k Review Summary
After reading through this Monopoly 250k online slot review, is there anything that's not to love about this fun and innovative game? None. So go ahead and try it out yourself!